If you've ever called Roku customer support and got a good-natured guy with a cheerful Southern accent on the other end of the line, chances are, you've met Ty Balajadia.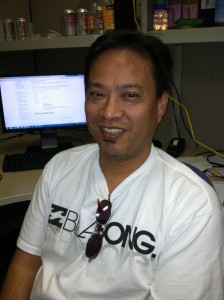 Ty currently heads up our growing US-based support team and although he joined Roku just over three months ago, Ty is already making a big impact on how Roku customers are supported. Ty talks to customers every day – and a big part of his role is to act as a liason between customers and the internal teams at Roku. This means that when you leave feedback for him – whether it's about product features or issues or channels that you'd like to see on Roku – he makes sure that your feedback makes it to the right people. In addition, Ty sees to it that customers have access to the most up-to-date information on the Roku support site in order to get the most out of their Roku players. In a nutshell, Ty is your biggest advocate!
When Ty isn't working with customers, he enjoys indulging in his other passion – sports – and especially baseball. A San Diego native, Ty managed several call centers in Southern California prior to Roku. With Ty's experience and commitment to customers – rest assured that should you ever need assistance with your Roku, Ty and his team will be standing by!