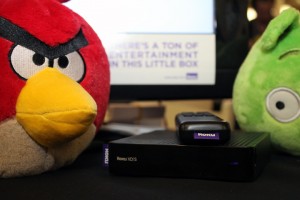 You technophiles out there may know, this week is CE Week (Consumer Electronics Week)in New York City and dozens of companies are here to showcase their latest and greatest. Not one to miss out on the action, Roku made quite the splash with our Angry Birds entourage at the gdgt Live and Pepcom Digital Experience events earlier in the week. And we had quite the company – other participating companies included the "Who's Who" list of the hottest brands in tech like Samsung, LG, Nikon, Logitech, T-Mobile, and many, many more.
Our first event of the week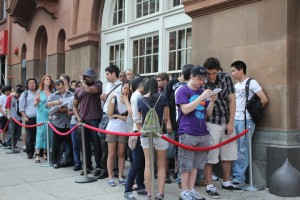 was gdgt (pronounced "gadget") Live, a series of parties open to consumers and press. Party-goers get to check out the latest in tech and mingle with their favorite companies while sipping on cocktails. When we arrived at the Altman Building on West 18th Street for the gdgt Live NYC party on Tuesday evening, we were looking forward to a great night of sharing what's coming up for Roku – and explaining why our demo table was overrun with Angry Birds and leering pig plush toys. And when the line grew and grew and grew outside hours before the party even started, we knew we wouldn't be disappointed. If you weren't able make this gdgt Live party be sure to follow gdgt for upcoming events in other cities.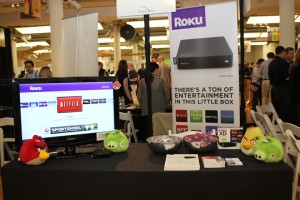 On Wednesday, we headed to the Metropolitan Pavilion for Pepcom Digital Experience, a long-running table-top demo event that is open to people with press credentials only. Our PR team caught up with the likes of CNET, Gizmodo, The Wall Street Journal, The Today Show, ABC News, Good Housekeeping, and MAXIM, who all wanted to know more details about Angry Birds coming to Roku, and who all could keep their hands off of our very squeezable Angry Birds plush toys!
We're completely stoked by how much excitement and support there was around the Angry Birds experience coming soon to Roku. Unfortunately we can't say more at the moment but we're looking forward to our big unveil later this summer. Stay tuned!