Adding storage space to Roku 2
Look closely at the back of any Roku 2 streaming player, and you'll notice a microSD slot located above the HDMI port. This slot lets you add more storage space to your Roku 2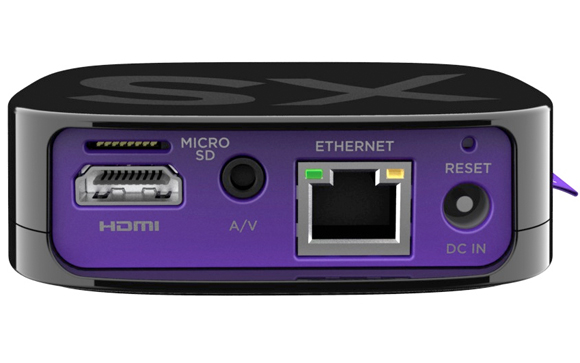 using a standard microSD memory card. You can use that extra space to store games or other Roku channels.
MicroSD cards, at just 15x11x1 millimeters in size, are even smaller than the SD flash cards that are used in many digital cameras. MicroSD cards are readily available, fast, inexpensive and reliable. They're also small enough to fit into the smallest streaming player ever—Roku 2!
We added the microSD slot primarily to support the availability of more games on Roku 2
in the future. All Roku 2 models have enough built-in storage to hold several games, depending on the size of the game. Add a 2GB microSD card, and the storage capacity for games goes up to as many as 50—possibly more. If you are a casual game player (or plan to add hundreds of video and music channels to your home screen!), we hope you'll find the ability to add additional storage a convenient feature.
Installing a microSD card is simple. Just insert the card firmly into the microSD card slot on the back panel of your Roku 2 and follow the on-screen instructions to format the card.
A few more details about using a microSD card:
The microSD card is for game and channel storage only. You will not be able to read files, such as videos and photos, from it. If you are interested in personal media playback, you can do that via USB on the Roku 2 XS model.
If you remove a microSD card from your Roku 2 in the future, any channels or games that were stored on it will have to be re-installed onto internal storage the next time you launch them.
You need the Roku Game Remote  with motion control to play some games like Angry Birds. The Game Remote comes standard with the Roku 2 XS, and is an optional accessory for the Roku 2 HD and XD versions. If you don't have the Game Remote, you will be unable to access and locally store games requiring motion control.
For security reasons, you can't move a microSD card from one Roku 2 player to another without re-formatting it.
For best results with your Roku 2, we recommend a Class 2 or greater microSD card with a minimum of 2GB storage. Most microSD cards sold today fit that description. You can buy one from most electronics retailers or from Roku here , either standalone or bundled with a Roku Game Remote.
As always, let us know what you think of this feature at feedback@roku.com.