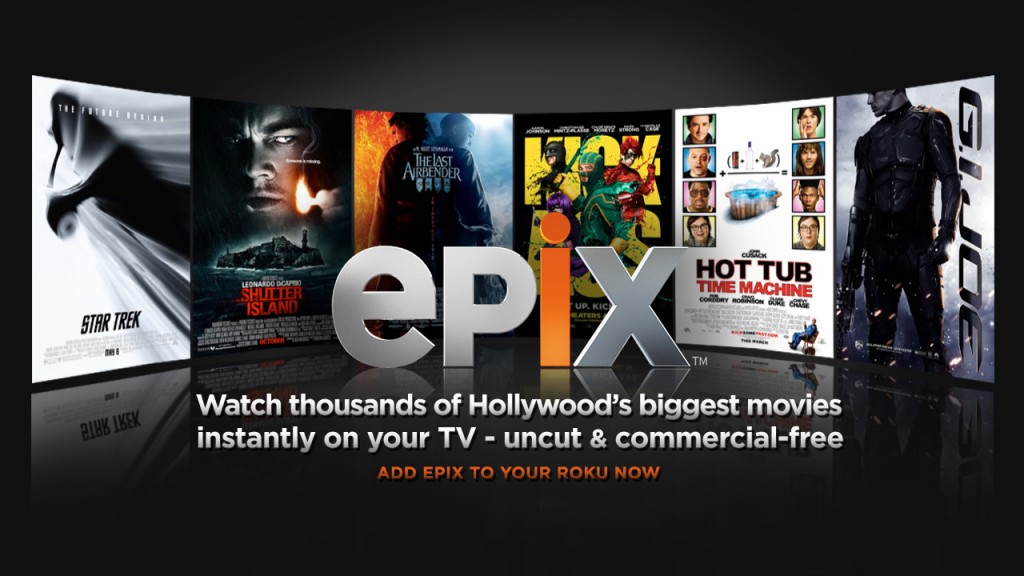 There are many stories in the media about over-the-top video (OTT) and cord-cutting, with Roku frequently mentioned as being at the forefront of this movement. At the same time, most Roku users have a video subscription service from a cable, satellite, or a telco provider and for them, Roku is a complimentary solution for video and music entertainment. With that in mind, video providers are introducing "authenticated" channels. These are channels that will allow you access through your Roku player if you authenticate (prove) that you subscribe to that channel through a cable, satellite, or telco provider. This requires a linking process similar to that used for other subscription channels on Roku, such as Netflix or Hulu Plus.
EPIX is our first authenticated TV channel, featuring movies from Paramount, Lionsgate and MGM, with titles like Iron Man 2, and Hot Tub Time Machine plus original comedy, music, and sporting events.
With the launch of the EPIX channel on Roku, we are providing a new option for our users who subscribe to a cable, satellite or telco provider that offers EPIX–increasing the value they get from their EPIX TV subscription and their enjoyment of the Roku player. EPIX subscribers can now take advantage of their Roku player to watch movies and original shows on demand, in HD, on any television in the house. This is a great solution for a second TV where there may not be a cable connection, or for Roku users who might prefer to browse the EPIX on demand selection using the familiar Roku interface.  Plus, Roku puts thousands of EPIX movies on your TV in HD that were previously only available online at EpixHD.com.  No need to hook your computer to your TV anymore.
An EPIX TV subscription is currently available to Charter, Cox, DISH Network, Mediacom, Suddenlink, and Verizon FiOS customers.  Check www.epixhd.com for more information. If you use one of these providers but don't subscribe to EPIX or you use a provider that doesn't currently offer EPIX, you can get a 14-day free trial and sample the newest movie channel to join Roku. The free trial comes with no strings and you will not be billed when the free trial is over.
Give EPIX a try and if you become a fan, let us know how you like it on Roku!