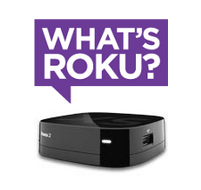 [UPDATE: this post is a few years old, please visit this post for up-to-date tips!]
Whether you are new to Roku or a seasoned Proku (get it?) here's a collection of tips and tricks to help you get the most from your player.
How to connect with Roku and why you should:
Facebook and Twitter are the best places to find out about the latest news, deals, giveaways and fan-friendly campaigns. With nearly 400,000 fans, Facebook is also a great place to get community supported help and find out what's new with Roku.
How to find the latest channels:
We have over 750 channels spanning 22 categories in the Channel Store. Aside from visiting the Channel Store on your Roku player, the blog is a great way to find out what's new.  You will find in-depth posts on new channels, features and updates, and we make it a point to read through the comments.
Did you know?

Where to look if you need help
Having trouble playing? We update our FAQ with reported outages, but another great place to check is downrightnow.com. Simply click on the service you want to track and the crowd-powered site will let you know if there are reported issues with service.
We're here to help! Reach out to our support team here.
We'll keep this page updated, so check back for new tips and feel free to add your own in the comments. Happy Streaming!