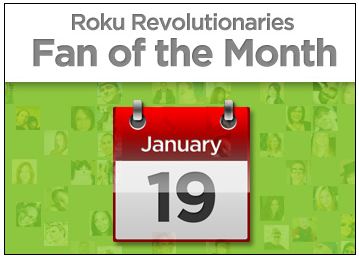 Has Roku rocked your world? Do you recommend your favorite little black box to everyone you know? If so, you just might be a Roku Revolutionary.
Starting this month, we're kicking off the Roku Fan of the Month program to highlight our impressive community—and give a little something back to the revolution.
In 150 words or less, tell us why you are prime material for the first-ever Fan on the Month. We'll pick one fan per month randomly and shower you with fame (a nice bio on the blog), fortune (some nifty Roku swag) and plenty of attention (we'll tell our mothers and talk about you around the water-cooler)!
Send your Roku story to therevolution (at) roku.com and if we pick you, you'll get an email with next steps. Be sure to include your name and address in your email, oh and shirt size wouldn't hurt.
Happy Streaming!