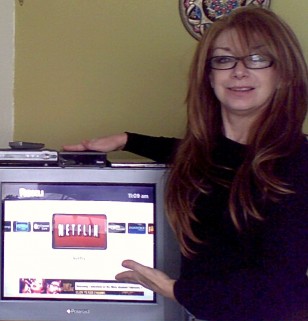 Today we're excited to kick off Roku Fan of the Month, a program we've created to acknowledge and celebrate our loyal, inspiring, helpful and all-around awesome fans.
We're proud to announce that Valerie is our first-ever Roku Fan of the Month!  We've spent a little time getting to know her, and you should too – she rocks! Roku Revolutionaries, meet Valerie:
What makes you a Roku Revolutionary?
My Roku – or should I say my daughter and my Roku – is our family. We support it, promote it, and sing its praises. Most importantly, Roku has shown us things we wouldn't have seen otherwise.  Our Roku player takes us off the beaten "mainstream" path and widens our viewing horizons.
How has Roku changed the way you watch TV?
I can now actually watch TV – I used to sit and skim channels randomly without direction. I never much liked playing Russian Roulette.  Now I have a plan; I know what I want, how to get there, and if I can't get there tonight, my Roku will wait until tomorrow… if only life were that simple!
What's your favorite Roku channel?
One favorite channel??  Don't think so – Netflix, Amazon, and Flixster (trailer heaven!) Some Sunday afternoons my daughter and I love to watch Pub-D-Hub and laugh ourselves silly at the old commercials.  Oh, and X-Factor is great!
Who controls the Roku remote in your house?
When my daughter is home, we fight about it and she wins.  Otherwise ME!
Are we invited to your next Roku streaming party?
Yes, you are invited to our next streaming party! Woohoo!
If Roku were an ice cream, what flavor would it be?
Ben and Jerry's Berry Berry Extraordinary – for sure.
Thanks Valerie, and thank you all for making the Roku community so special. Remember — you could be next! Send your story to therevolution (at) roku.com and tell us why you are the biggest Roku fan of all time. We can't wait to brag about you.