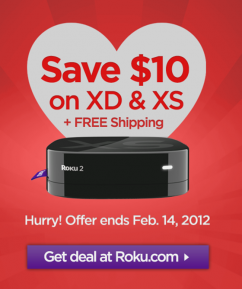 Let's be honest- flowers wilt, chocolate melts and diamonds can break your bank account. The Hallmark cliché is so ten years ago, and more importantly, what's in it for you? Help us take a stand against one-way gifting and get your sweetie a gift you can both appreciate!
Through February 14th, you can snag $10 off our flagship Roku 2 XS or the 1080p-capable Roku 2 XD. Plus, with the help of this blog, you'll always know the right movie to watch… or pretend to watch.
Will you be our Valentine?