The Roku app is now available on the Android Market! Use the app to explore, rate channels, and much more – all with the tap of a finger.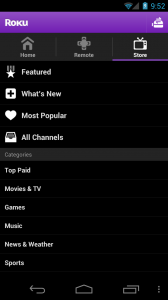 What else does it do? Glad you asked:
Instantly replay your favorite movie moments.
Quickly add and remove channels.
Control and switch between multiple Roku players.

Launch rocket ships and make perfect toast. Every time. (Just kidding).

Features a handy keyboard for text entry.
The Roku app will run on any Android device with Android version 2.1 or later installed. Did we mention that it's FREE?
As you may remember, we launched the Roku iOS app last December, and we'll keep working hard to improve the Roku mobile experience. We hope you enjoy Roku's latest mobile effort!
Do you have feedback about the Roku mobile experience? Let us know at feedback@roku.com.