Hi! I'm Eric Lachter, Director of Marketing and Guy that Streams Great Movies on Roku. I thought today would be a good day to follow up with another Roku staff favorite.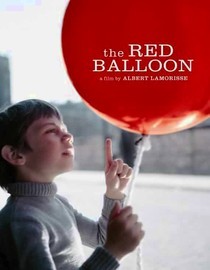 Last night my eight year old Liza and I watched the movie The Red Balloon on Netflix. It is 34 minutes long, and almost entirely without dialogue (though, there is a wonderful soundtrack). The few sentences that are spoken are in French with subtitles.
Basically, the movie is about a little boy in Paris in the 1950's with a red balloon that magically follows him throughout his day. Other kids and adults try to get the balloon, but they can't. The balloon has a mind of its own.
I would summarize the movie as being a "meditation" on youth and freedom. It is a very subtle and quiet film, that lulls you to a  happy place, leaving you feeling like a little kid yourself.
I'd give the movie 8 out of 10 streaming stars.
Have movies you have watched recently on your Roku that you would recommend? Drop them in the comments below.
Happy Streaming!