We're excited to introduce James, our Fan of the Month for March! James loves Roku so much that he built a custom home theater around his Roku 2 XS player. We'll let him tell you about it: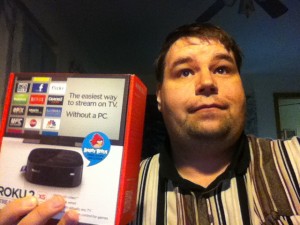 What makes you a Roku Revolutionary?
When I was introduced to Roku, I was amazed by the groundbreaking technology. I canceled cable, started adding Roku channels and subscribed to Amazon Prime. After a year of putting my savings in the bank, I was able to build a home theater room – all thanks to Roku!
How has Roku changed the way you watch TV?
Convenience. I have more control over the content that comes in my home, and the monthly cost is low. I only subscribe to the channels that interest me.
What's your favorite channel to watch on your Roku?
It's between Netflix, Crackle, and NBC News.
Have you ever sat down and watched an entire TV show from start to finish on your Roku?
Yes – '24.' It took a whole day!
Who controls the Roku remote in your house?
I actually have three Roku players! My wife controls the living room, we have another one in the guest room, and I control my Roku home theater room. A night of flipping birds with the family on a huge 8 foot by 4 foot screen = priceless.
Thanks James, and thank you all for being an important part of the Roku community. Think you should be chosen as our next Fan of the Month? Send your story to therevolution (at) roku.com and tell us why you're the biggest Roku fan of all time. We can't wait to brag about you!