Hi, Eric here, Roku marketing and streaming guy with a movie review from Netflix.  This time, I'm doing a super dude macho flick called "Limitless."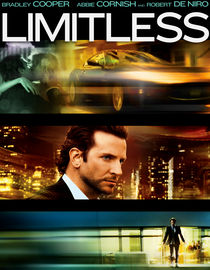 Limitless is like a guys weekend in Las Vegas.  It's a guilty pleasure.  And you feel a bit dirty after watching it.  But it's good anyhow.
The movie has a modern and fast paced visual style, like a music video or a trip up the elevator at a W hotel.  The camera work creates a blend of nausea and excitement.   Tons of extreme closeups bring us inside of the mind of Cooper. The plot is fairly formulaic, and you can guess most of how the story arcs (loser finds wonder drug, loser becomes superstar, loser faces adversity…), but it's still fun.
Bottom line on Limitless: if you like the idea of imagining yourself with superhuman powers and the ability to bend life to your will, this flick is for you.  Totally guilty pleasure but one without any lasting negative consequences.