UPDATE: Sadly, the Roku Shake Remote isn't real. Happy April Fools' Day, friends!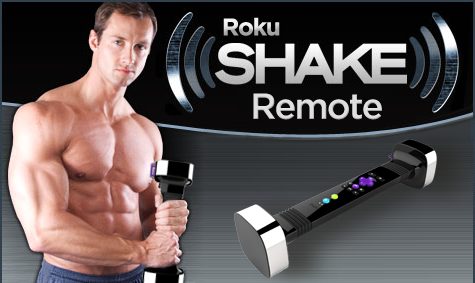 Roku has shipped millions and millions of streaming players. We've expanded into international markets. And total streaming hours on Roku are going through the roof!
While this is great, it makes us wonder – if people are streaming this much, when are they working on their fitness?
All that changes today. We're thrilled to announce an industry first – and a ground-breaking new addition to our product line: the Roku Shake Remote.
[youtube http://www.youtube.com/watch?v=bSNqooi5ZXk&version=3&hl=en_US]
Stop Dreamin'. Start Streaming. And Shakin'.
Featuring patent-pending Kenitiku™ technology, the Roku Shake Remote  takes the power of kinetic motion and changes it into bulging HD muscles – all while you catch up on Downton Abbey, listen to Pandora or fling those Angry Birds. With the Roku Shake Remote, you're guaranteed to increase your muscle activity 1,000,000% more than watching just regular TV!
Three Kick-Butt Workout Modes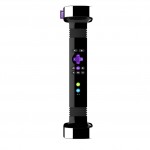 Unleash your inner Zoolander and shake your way to a really, really good-looking body with the "Stiller" mode. If it's 80's aerobics you're looking for, grab your leg warmers and downshift to the "Fonda" mode. Or, for the ultimate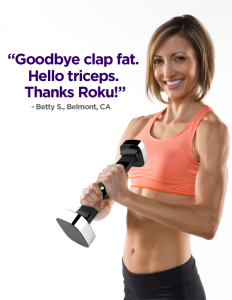 Navy SEAL-certified workout, channel Hollywood's favorite enormous blond muscle-bound Euro bad guy with the "Lundgren" mode. You'll get ripped AND develop a killer Euro accent too!
Pricing and Availability
The new Shake Remote is available starting April 1 exclusively at Roku.com.  It's  just three easy payments of $19.95 plus $9.95 for shipping and handling. Order yours today!