A brand new exclusive offer for Roku Insiders is here, and don't worry – we have plenty to go around! Remember, this deal is for Roku customers only. You'll find Roku Deals in the Channel Store on your Roku player.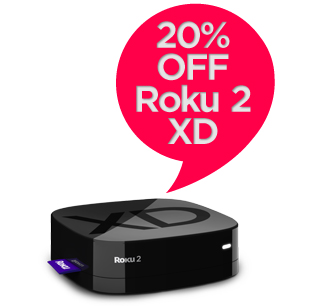 This week we're taking 20% off a new Roku 2 XD – now just $63.99 with FREE shipping. If you've been thinking about upgrading, this might be the screaming-streaming deal you're looking for. Snag one for yourself, or stream it forward and get one for a friend! Hurry though, this offer ends Sunday April 15 at midnight PT.
Not sure why you should upgrade? Check out this handy link to compare previous generation Roku players.  Thanks to Dave Krieger for calling this out!
To visit the Channel Store, highlight the Channel Store icon on your Roku player home screen. All of our Roku Deals will be listed along with 450+ entertainment channels. Simply select the product you want to purchase, click "OK," and we'll ship it out to the address we have on file. Think of it as one-click shopping from the comfort of your couch!
To learn more about billing and creating a payment method on file, visit our support page here. You can update your shipping and billing info here.
Don't have a remote? Download our free Android or iPhone app to navigate your way to the best deal in the house.
Due to popular demand, you might experience a slight delay on the purchase screen. Thanks for your patience.
Happy streaming—and saving!