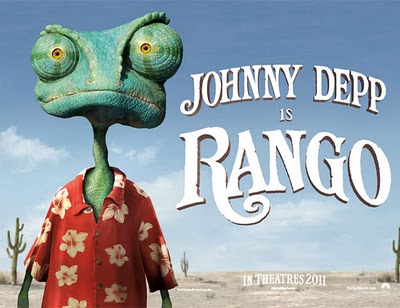 Hi, I'm Eric Lachter, Marketing Director and guy who streams great movies on Roku. This weekend, my daughter and I watched Rango on Netflix with our Roku – we highly recommend it.
Rango packs action, romance (thanks Isla Fisher), and comedy into a tightly crafted tale helped along by friendly mariachi owl narrators. Like a cowboy in a Sergio Leone western, Rango stumbles into Dirt, a tumbleweed town badly in need of water, and has to face the challenge at hand. Lesser lizards surely would have cut and run!  My favorite line in the movie is: "No one can walk out of their own story," a great lesson that despite our mistakes (and Rango certainly makes mistakes), we need to keep moving forward in the face of life's challenges.
If you like suspense and humor wrapped in a visually stunning candy coating, you'll love this movie. The writing, music (Hans Zimmer) and art direction are current, compelling, funny and exciting, giving the movie more of a live action vs. animation level of immersion. Check it out and let me know if you agree that it's a winner.
Happy Streaming!