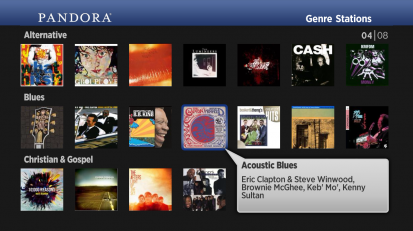 The most popular music channel on Roku just got better. Today, we are excited to announce a major update to Pandora, which includes a refreshed interface and several welcome enhancements.
Here's what's new in Pandora version 3.0:
New station screen design – Makes it easier and faster to find and navigate to your favorite Pandora stations
Genre station support – Explore and add over 275 genre stations from a new genre station grid screen
Multiple account support – Connect up to 5 Pandora accounts and switch quickly between them
New screen saver – Displays track, artist and album name together with album art that glides across your TV screen
Search album art – Displays album art on the extended search results screen
Pandora 3.0 is available now for all Roku players. If you already have Pandora installed, the channel will update automatically within the next 48 hours. (Note: Some graphic effects, like station list button icons and cross fading of album art on the screen saver, only work with Roku software 4.8.)
The channel, as always, is free. If you haven't yet tried it, you can find it in the Music category of the Roku Channel Store or add it here.
Happy streaming!