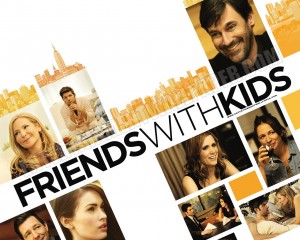 Hi, I'm Eric Lachter, Marketing Director and guy who streams great movies on Roku. This weekend I watched a new release on Amazon Instant Video called "Friends with Kids." It follows an entertaining group of thirty-something-year-old couples as they adjust to parenthood and cope with big life changes.
The acting and casting are excellent. Jon Hamm and Kristen Wiig are equal parts horrifying and hilarious as the unraveling "we drink too much and hate each other" couple, and Maya Rudolph and Chris O'Dowd are endearing as the resilient "still in love through all the screaming" couple. Jennifer Westfeldt and Adam Scott star as the central duo, platonic best friends who decide to have a baby together while dating other people (like that'll ever work). When Megan Fox and Edward Burns enter the picture as their new love interests, predictable drama ensues.
As a husband and dad, I could relate to the characters' transition from single life to marriage to parenthood – it felt real. This is not a typical rom-com with montages and weepy chocolate binges. It feels current. And funny and sad.  It's the type of escape that I look for in a film while I eat a burrito in my yoga pants. Since it's currently a $0.99 rental, I'd even recommend it for movie night – you might like it too.
Happy streaming.