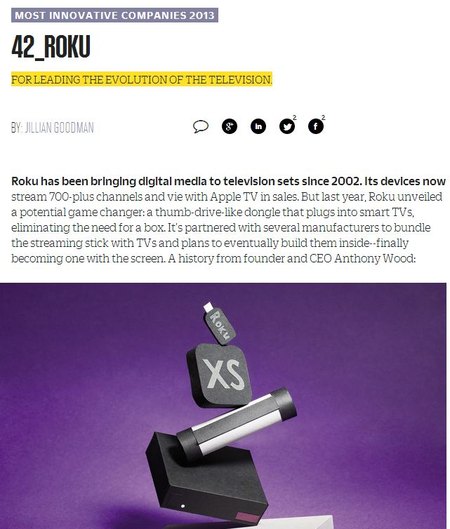 Fast Company Magazine's annual list of the world's Top 50 Most Innovative Companies is out today, and we're proud to be listed as one of the top ranking companies!
Roku® is slated at #42, and credited for leading the evolution of television. In addition, we are ranked #3 among the world's top 10 consumer electronics companies!
Since introducing the first streaming player four years ago, we've expanded into Smart TVs, Blu-ray players and other entertainment devices with the introduction of the Roku Streaming Stick and Roku Ready program. Last year, we streamed one billion hours and surpassed 700 channels on the Roku platform in our quest to bring customers the best range and quality in streaming entertainment. We'll keep working to make TV easy, fulfilling and affordable.
It's a great honor to be named among the most innovative companies in the world, and we look forward to sharing more exciting news with you in 2013. If you'd like to see the full article, you can view it online here.
Happy Streaming!