In May 2008, Roku launched the very first player to stream entertainment to the television. We called this device "the Netflix player," since Netflix was the first available channel. For the first time, consumers could instantly stream thousands of TV and movie titles on their televisions thanks to the power of the Internet. With the introduction of that first streaming player, we pioneered the streaming era of television.
Over the last five years, we've celebrated many milestones as top brands have joined Roku to stream entertainment to the television for the first time. It's been exciting to see our customers rejoice as we've added channels like Amazon Video on Demand in 2009, HBO GO in 2011 and TWC TV in 2013. And today, I'm pleased to share another milestone: thanks to you, we have shipped our 5 millionth Roku streaming player in the U.S.!
Since 2008, we've delivered 8 billion streams of video and music to Roku players. Of course we have a few more channels now – about 750 or so.
What are people streaming on Roku? Tons of TV shows and movies. Netflix, Hulu Plus, Amazon Instant Video, Crackle, HBO GO and VUDU are all top favorites. Music is extremely popular, and consumers enjoy Pandora, VEVO and Spotify among other choices. News, sports, science and foreign languages from around the world are also big hits.
Did I mention games? In 2011, we introduced casual games to the Roku platform with the debut of Angry Birds, which took the leap from mobile to TV for the first time. Angry Birds remains the most popular game on Roku today – by our count more than 3 billion bad piggies have been eliminated!
Today, 25% of Roku players stream more than 35 hours per week to a TV. According to Nielsen, the average American spends 34 hours per week watching live TV. That means one in four Roku customers are enjoying the vast majority of their TV time with Roku, making Roku one of the most coveted streaming platforms.
What does the future of TV look like? There's no doubt it will be streamed.
Here's to the next 8 billion streams!
Anthony Wood
Roku Founder and CEO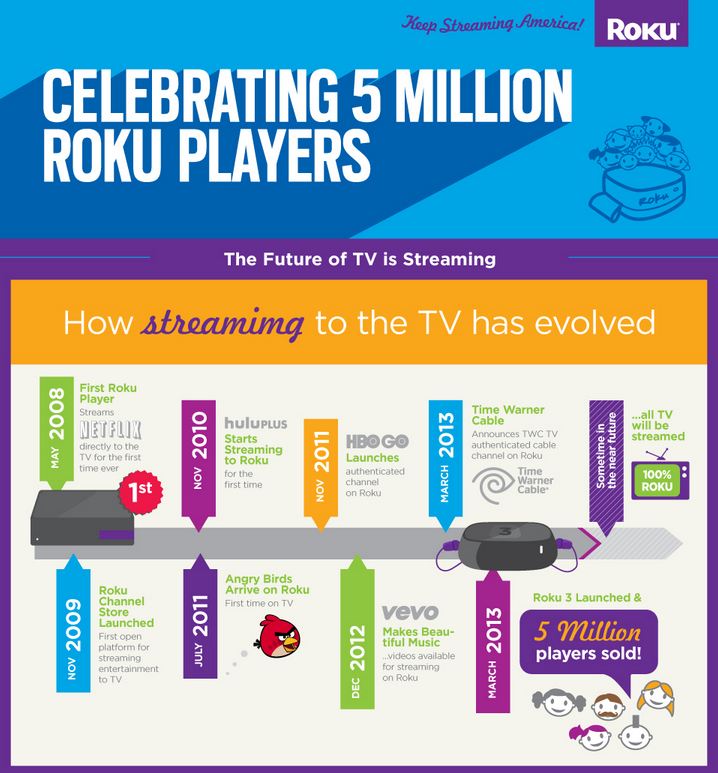 click to enlarge