Oh the joys of binge-watching! Entire weekends spent in pursuit of a finale, hours spent in pure entertainment bliss – thank goodness the fridge is stocked and the couch is comfy!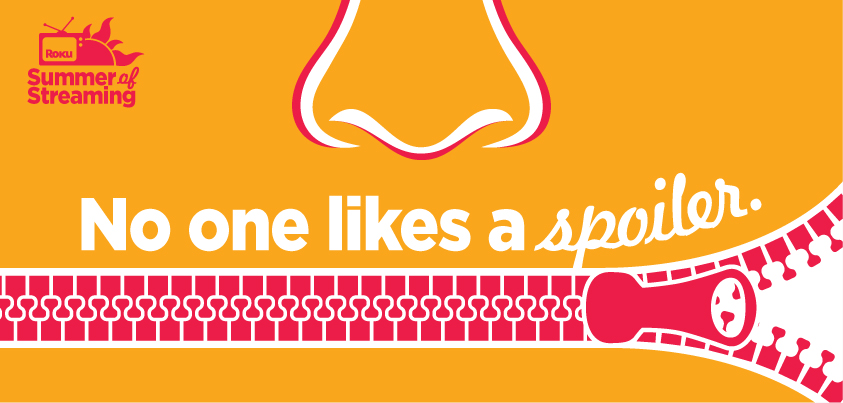 Gone are the days of waiting for episodes, but it's become near impossible to avoid hearing, seeing or saying anything that might land you in hot water.
After last night's Game of Thrones season finale, it's important to mind your streaming manners. We've compiled this handy-dandy etiquette guide to help you to stay in the clear!
Roku's Guidelines for Socially Responsible Streaming
Nobody likes a spoiler – If you're going to discuss a recent episode, you must use some variation of the phrase "spoiler alert" followed by a minimum 30-second pause before continuing the conversation. Preface spoiler-riddled tweets with #SpoilerAlert to warn those who may not want to read on. Your friends will thank you and better yet, they'll stay your friends.
Gone streaming – We all know that social media is a spoiler minefield. So, if you were out with friends last night and plan to catch-up on the Game of Thrones finale today, it's wise to stay away from Twitter and Facebook until you're all caught up. Update your status with an explanation if you're afraid someone might file a missing person report.
Use your Monday manners – Remember last Sunday when you were too exhausted from Game of Thrones to watch Mad Men too? Someone in the office made that same decision this week, so tread lightly at the water cooler. Monday tends to be the biggest spoiler day of the week thanks to the number of series that air Sunday evenings. See spoiler rule above.
Sleep is overrated – If you missed the boat on a long-running series like Mad Men, Breaking Bad or Dexter, don't be overwhelmed at the prospect of catching up. Thanks to commercial-free viewing on Roku, you can stream an entire 13-episode season of 47-minute shows in just over 10 hours – slightly longer than the average work day but so much more productive!
Marathons are not just for runners – Streaming several consecutive episodes of a drama like Breaking Bad or The Walking Dead is great way to get immersed in the story arc, but has been known to cause nightmares or involuntary eye-twitching at the very least. To prevent this, stay hydrated and take frequent blink breaks. In the event that fear or stress renders you immobile, placing a hand over your eyes and viewing through a small space between your fingers is advisable.
No cheating – So you and a partner have decided to watch the entire Friday Night Lights series together.  A pact is a pact, but inevitably one of you will start watching ahead, gloat over knowing an upcoming plot point and come dangerously close to jeopardizing your 20-year relationship. There are two ways to deal with streaming infidelity: view in private with Roku 3's headphones until you are all caught up, or remove the cheater from your life until you've completed the entire series. We recommend both, just to be safe.
"Something suddenly came up" – If Sunday morning arrives and you have yet to stream last week's True Blood before this evening's episode, it is entirely permissible to skip a morning run, family dinner, volleyball tournaments, baby showers or any other Sunday commitments you've made – provided you have developed an airtight excuse.  Family and friends forgive. Vampires do not.
Avoid withdrawal – After finishing an entire series, you may experience symptoms of withdrawal, including denial, anger, the inability to stop quoting your favorite characters, and a general sense of overwhelming loss. In these uncomfortable instances, remember that you are not alone and use Roku's search tool to fill the void with a new series as soon as possible.
Have you ever fallen victim to a spoiler? Are you a seasoned marathon streamer with several series under your belt? Help your fellow streamers by sharing your tips below.
Happy (socially responsible) streaming!