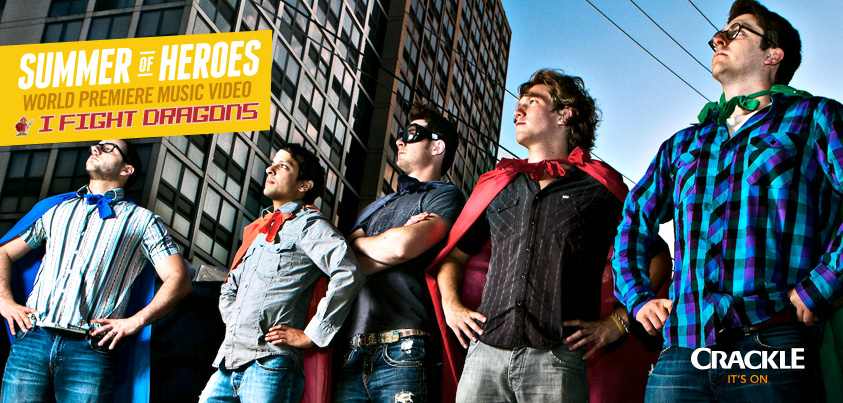 Is your summer sadly lacking in valor and majesty so far? Fear not! Our friends at Crackle are kick-starting the season with SUMMER OF HEROES, four whole weeks of heroic action movies. And the fun doesn't stop there. Every hero needs a theme song, so Crackle collaborated with popular Chicago rock band I Fight Dragons to create an appropriately heroic original anthem. Today, the "Summer of Heroes" music video debuts exclusively on Roku – add SUMMER OF HEROES to your Crackle Watchlist and check it out!
We recently had the pleasure of chatting with I Fight Dragons lead singer Brian Mazzaferri about binge streaming, killer space robots, and the band's upcoming album. Check out our convo below.
You've weathered some epic adventures as a band, building an impressive fan base and crowd-funding an album along the way. Tell us about the journey leading up to the "Summer of Heroes" song and video.
Brian: It has indeed been an epic journey. Whether fighting killer space robots, battling ancient dragonlords, or playing rock shows from Bellingham, WA to Orlando, FL, we've had a blast every step of the way. When we first thought to combine chiptune and "rock and roll" music back in 2009, we never could have anticipated what we were in for. We've also had an adventure-fueled run through the major label system and miraculously come out the other end in pretty good shape, and with our Project Atma kickstarter having gone so well last month, we're pretty psyched about what the future holds.
When the Crackle team approached us about writing a song for a ridiculously awesome slate of movies on Crackle we moved heaven and earth (mostly earth) to make it happen, and we love how it all came out.
Your Facebook page describes you as "a band made up of robots disguised as people," and you battle hipster zombies in the music video for "cRaZie$." Do you have any secret superhuman powers?

Brian: Yes. But if we told you what they were, then we'd have to use our super secret death ray vision to kill you. Wait… Dangit.
What are your favorite superhuman/superhero TV shows and movies? Have any of them inspired your music?
Brian: Yes. Growing up I was addicted to X-Men cartoons, as well as basically any superhero cartoon or movie that came on. I was a huge fan of the original Superman movie, as well as Superman III (the best Superman movie largely due to it's realistic portrayal of the power of computer hackers and specifically naive ones like Richard Pryor). We actually had a song on our first EP called "No One Likes Superman Anymore" which in case you couldn't tell was inspired by one of the things I just mentioned (hint: it's not X-Men). I'm also a voracious consumer of the current glut of superhero movies that have come out in the past decade. I love them all, even (especially?) the bad ones.
Roku is all about streaming what you want, when you want. In fact, we're seeing now that the majority of streamers are watching marathon-style or "binge" viewing multiple episodes. Have you ever watched an entire series all in one sitting? What's on your Crackle Watchlist right now?
Brian: I would say that I almost exclusively watch things binge style…the vast majority of my TV/movie consumption has the vibe of GIMME ALL OF IT NAO. My biggest binge ever was probably when I watched the entire Battlestar Galactica series in a few weeks. I had a similar binge for Avatar: The Last Airbender. As far as my Crackle Watchlist goes, I've got the Marvel Anime movies and Final Fantasy VII: Advent Children in there as well as Resident Evil and Underworld – classics that I still remember seeing in theaters.
All-time favorite TV/movie quotes? And if you could be known for a one-liner, what would that be?
Brian: Any quote of Arnold's beats any other quote in my book. I have been known to quote Total Recall completely out of context – things like "See you at the party, Richter" or "Consider that a divorce." If I had a one liner it would probably be something pretty gnarly involving robots and magic – maybe "Die, RoboWizard Scum!" …I'll keep working on it.
That's pretty good – it's all in the delivery. What are the top 5 songs on your summer playlist right now? Do you use music services like Pandora, Spotify or iHeartRadio?
Brian: I'm a Spotify listener myself, but I've been known to dabble in Pandora. I tend to do more albums than songs, but I've been listening to a lot of Muse, Amanda Palmer, Regina Spektor, Jellyfish, and Jukebox The Ghost lately. Pretty random stuff.
Speaking of random stuff, if you had to pick an actor to play each of you in the big screen story of I Fight Dragons, who would you choose?
Brian: I'm just going to choose for everyone, so ha ha:
Brian – Hugh Jackman
Bill – Michael Fassbender
Packy – James Marsden
Chad – Vin Diesel
Hari – Neil Patrick Harris
Well chosen. What's next for I Fight Dragons? Do you have a tour planned to promote the upcoming album?
Brian: Well we're writing more songs for the album now, then we'll record in August and September, then we'll probably do a little bit of touring around the album release in December! It's going to be a fun year!