English speakers call it Bastille Day; the French call it Fête Nationale; we call it an excuse to get our subtitles on while enjoying both sweet and savory crêpes—why have just one?—wearing bérets and sipping bubbly. Okay, maybe not the bérets. In honor of France's Independence Day this Sunday, June 14, here are some French movies that are not to be missed.
Our favorite French flick by one point six kilometers, aka a mile, is Amélie: It's a must-watch for anyone who needs a little joie in their lives. The main character, Amélie—played by the gorgeous and talented Audrey Tautou—is a naïve young girl in Paris on a mission to help those around her, and ends up falling in love in the process. It's a charming film by Jean-Pierre Jeunet that's nearly as beautiful as the city of Paris itself. Careful or you'll let your crêpe go cold as you find yourself mesmerized by the inner workings of Amélie's imagination caught on film. Available on the Amazon Instant Video and VUDU channels on Roku.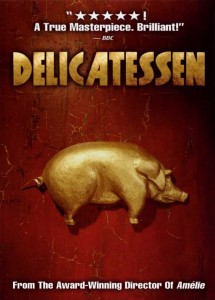 Delicatessen, also by Jean-Pierre Jeunet, this time with Marc Caro, is another brilliant fantasy fête. Ex-clown in love with the butcher's daughter? Oui, s'ilvousplaît! Available on the Amazon Instant Video channel on Roku.
A feast for the eyes, cult-followed The City of Lost Children is a sci fi/fantasy tale about a monster who can't dream, so he steals dreams from children. (Naturally.) Watch if you're in the mood for a talking brain in a fish tank, clones who can't decide who is the original, Siamese twins, an octopus tour guide, and a monster-sized helping of wow. Or, as the French say, wow. Available on the Amazon Instant Video channel on Roku.
A few more fantastic French flicks include:
La Femme Nikita (1990) and Léon: The Professional (1994), both about likable assassins – availble on the Crackle and Amazon Instant Video channels, respectively
Les visiteurs (1993), the tale of a nobleman and his sidekick who are accidentally transported to modern times – available on the Netflix channel
Vive la France!