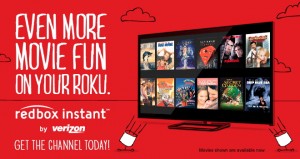 Grab the popcorn – Redbox Instant by Verizon is now available for streaming.
Available to all customers in the U.S. with a Roku 3, Roku 2, Roku HD (model 2500) or Roku LT (models 2400 & 2450) player or the Roku Streaming Stick, the service offers:
Access to 5,500+ streaming movies and 1,500+ movies currently at Redbox kiosks
The ability to locate and reserve movies and video games at more than 43,000 Redbox kiosks nationwide
Movie trailers and user reviews
Bookmark functionality to keep track of all movies discovered
The option to start, stop and resume watching a movie
Parental controls to manage on-demand purchasing and content restrictions
Movie fans who want to access the service on Roku just need to sign up for  a Redbox Instant by Verizon subscription package – which includes thousands of popular movies for streaming plus four DVD credits – for only $8 per month. And for new customers, Redbox Instant by Verizon also offers a 1-month free trial with subscription.
Happy (movie night) streaming!