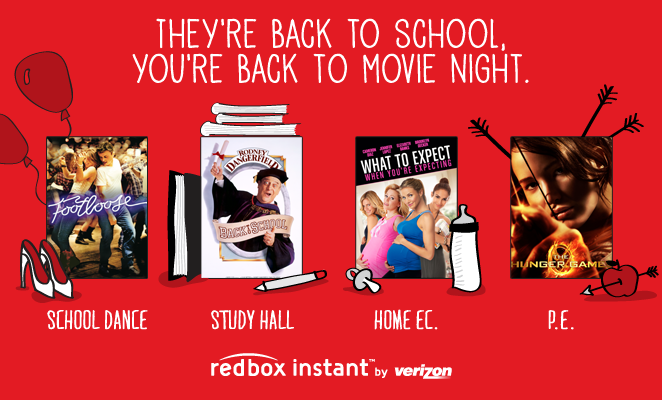 Summer is winding down and it's time to think about the new school year and fall routines. As the kids go back to school and homework, make movie nights on Roku the best reward in your home. Here are some streaming selections from our friends at Redbox Instant by Verizon – inspired by our favorite school "subjects":
School Dance
Pretty in Pink – A poor girl must choose between the affections of her doting childhood sweetheart and a rich but sensitive playboy.
Carrie – A young, abused and timid 17-year-old girl discovers she has telekinesis, and gets pushed to the limit on the night of her school's prom by a humiliating prank.
Flashdance – A Pittsburgh woman with two jobs as a welder and an exotic dancer wants to get into ballet school.
Footloose – City teenager Ren MacCormack moves to a small town where rock music and dancing have been banned, and his rebellious spirit shakes up the populace.
Study Hall
Young Adult – Soon after her divorce, a fiction writer returns to her home in small-town Minnesota, looking to rekindle a romance with her ex-boyfriend, who is now happily married and has a newborn daughter.
Dumb & Dumber – The cross-country adventures of two good-hearted but incredibly stupid friends.
Bonnie & Clyde – A somewhat romanticized account of the career of the notoriously violent bank robbing couple and their gang
Back To School – To help his discouraged son get through college, a fun-loving and obnoxious rich businessman decides to enter the school as a student himself.
 Home Economics
Miss Congeniality – An FBI agent must go undercover in the Miss United States beauty pageant to prevent a group from bombing the event.
Panic Room – A divorced woman and her diabetic daughter take refuge in their newly-purchased house's safe room, when three men break-in, searching for a missing fortune.
What to Expect When You're Expecting – A look at love through the eyes of five interconnected couples experiencing the thrills and surprises of having a baby, and ultimately coming to understand the universal truth that no matter what you plan for, life doesn't always deliver what's expected.
 P.E.
The Bad News Bears – An aging, down-on-his-luck ex-minor leaguer coaches a team of misfits in an ultra-competitive California little league.
The Hunger Games – Katniss Everdeen voluntarily takes her younger sister's place in the Hunger Games, a televised fight to the death in which two teenagers from each of the twelve Districts of Panem are chosen at random to compete.
Hoosiers – A coach with a checkered past and a local drunk train a small town high school basketball team to become a top contender for the championship.