Great news for Canadian TV lovers today! The Roku 3 – our fastest and most powerful streaming player to date – is now available up north. Tiny but mighty, the Roku 3 performs and responds faster, making it easier than ever to instantly access your favorite movies and TV shows.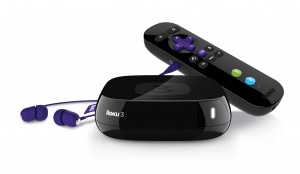 The Roku 3 enhanced remote boasts a built-in headphone jack for private listening that's perfect for late-night binging without fear of disturbing anyone. The Huffington Post actually called this feature a marriage saver!  Additionally, the remote doubles as a motion-sensing game controller for playing games like Angry Birds Space. For even more entertainment possibilities, Roku's free app for iOS® and Android™ devices transforms a phone into the ultimate Roku command center.
Roku 3 comes fully loaded with more than 450 channels of entertainment, 1080p HD support, dual-band wireless, Ethernet and USB ports, and a microSD slot.
Available for CAD $109.99, Roku 3 can be purchased starting today through Roku.ca and Amazon.ca as well as major Canadian retailers including Best Buy, Future Shop, London Drugs, Staples and Walmart (actual availability date may vary by retailer).
Happy streaming, Canada!