You didn't think we'd leave you for Thanksgiving without a little entertainment treat, did ya?
M-GO is now integrated directly onto the Roku home screen menu in the U.S., making it even easier for you to find and watch your favorite movies and TV shows. To help mark the occasion, your first two rentals of $5.99 or less are free! *Details below.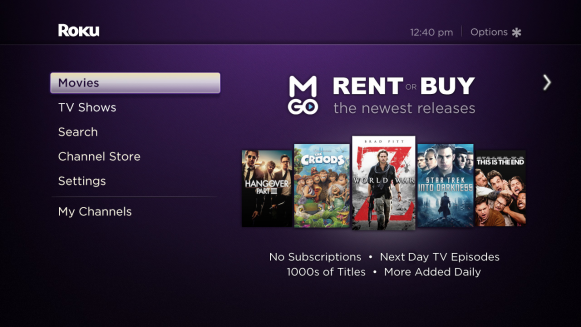 Now a little something for the kiddos. For a limited time only, own Despicable Me 2 for just **$5 and enjoy the lovable Minions anytime you want.
*For movie rentals of $5.99 or less; On first use, you will be prompted to create a new M-GO account or link your existing M-Go account to your Roku; Discounts are automatically applied at checkout and reflected both in your emailed receipt and account history.
**Limited quantity available. Promo details at mgo.com/despicableme2