There are now more than 1,500 channels to choose from in the Roku Channel Store! That's not just hundreds of thousands of TV shows and movies and millions of songs and music videos; it's also news, sports, science, food, kids, fitness videos –  that's countless hours of entertainment and enrichment. With so many choices how does someone decide what to stream?
The Roku Search feature has been helping customers quickly find exactly what they want to watch on Roku since it debuted in 2012. Roku customers access Roku Search on the TV screen with the included Roku remote control. Starting today and over the next week a software update will roll out to Roku 3 players so customers can also use Roku Search via the Roku mobile app for Android and iOS mobile devices. (Roku Search on the mobile app will be available for additional models in the coming weeks.)
Roku Search scours for movie, TV show, actor or director entries across multiple channels including Netflix, Hulu Plus, Amazon Instant Video, Crackle, Vudu, Redbox Instant by Verizon, Popcornflix, Blockbuster On Demand, HBO GO, M-GO and SnagFilms. This allows customers to see all of the options available so they can determine the channel that's the most convenient and affordable way to stream the entertainment they want to enjoy. Feel like a Daniel Craig flick? Just enter "Da" and Roku Search serves up a list of "Daniel" results. When Daniel Craig is selected a filmography of more than 25 choices appears, each with channel availability and associated pricing for free with subscription, rental or purchase. Simply tap your preferred search result and your Roku player will automatically take you to the channel to start playing your selected entertainment.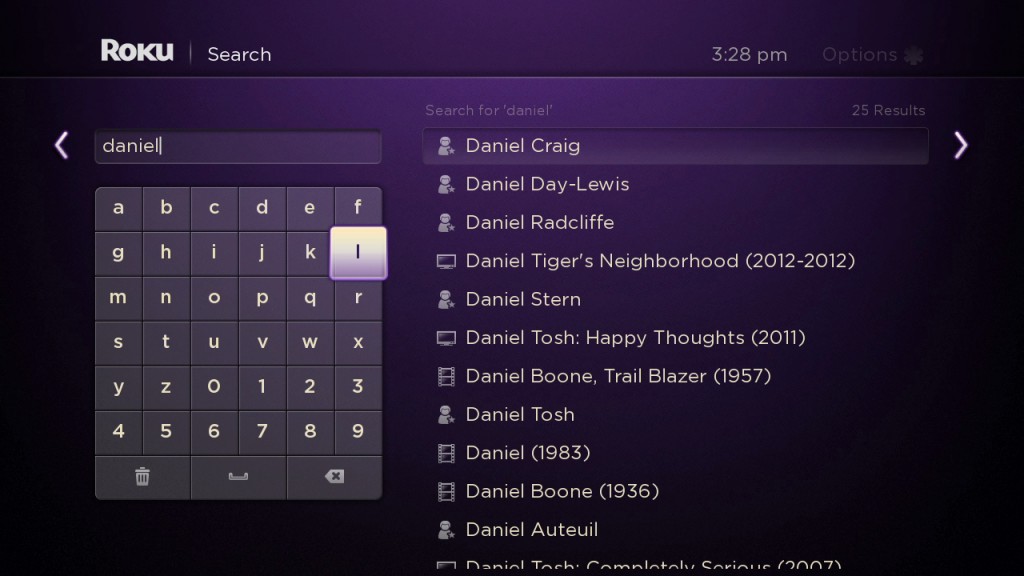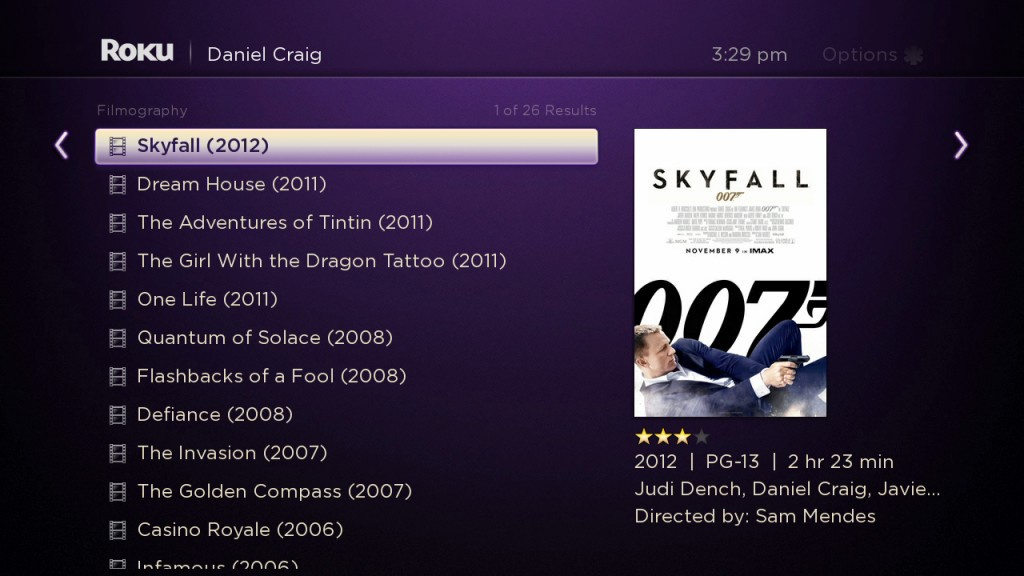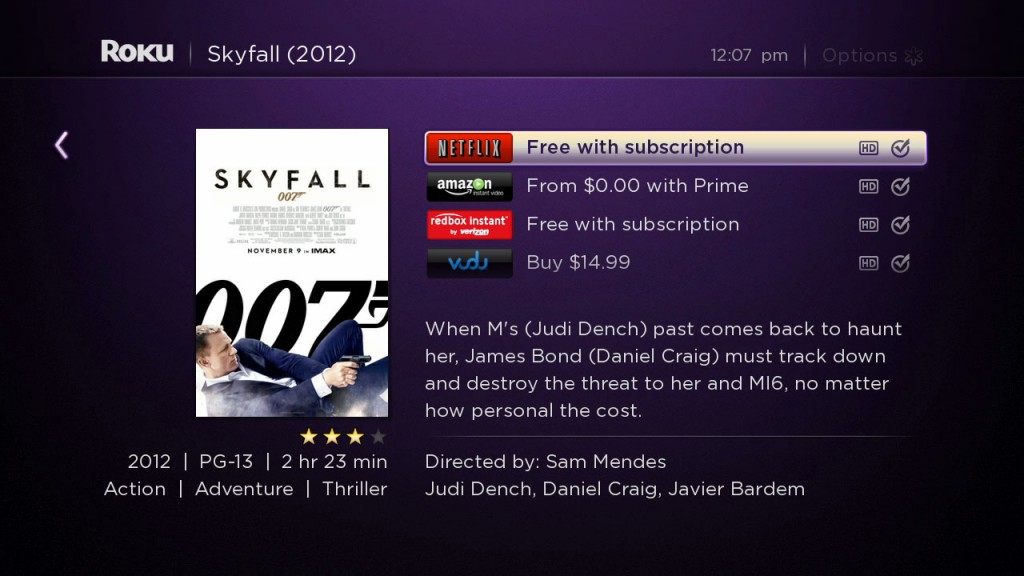 When presented with the largest collection of streaming  entertainment available anywhere, what do Roku customers search?
We took a look at aggregated Roku Search on-device results from last few months and Roku customers agree that it's the golden age of TV with television series dominating the top 25 searched titles. Lord Grantham outclasses Walter White to help Downton Abbey nab the number one spot among most-watched TV series. The top list includes a mix of comedy, drama and kids shows and proves the lasting appeal of Sponge Bob over TV phenomena like The Walking Dead and Game of Thrones.
The "aca-amazing" antics of Anna Kendrick, Rebel Wilson and crew pushed Pitch Perfect to the top of Roku's now 35,000 movie offerings – it was the number one searched for movie by Roku customers since the start of 2014, followed by Despicable Me and Despicable Me 2. The remainder of the top searched for movies include best picture nominees like Silver Linings Playbook and Life of Pi as well as favorites Star Trek Into Darkness and The Lincoln.
Roku customers are less likely to search for famous personalities than TV series and movies, but when they do, they sure enjoy a classic hero. The top searched for people are surprisingly almost all male, and are headed up by silver screen icon John Wayne. One woman broke through the sea of macho…Sandra Bullock, who defied gravity to land at the number three most searched for spot. See below for the full breakdown.
Happy Streaming!
Top Searched TV Series:
Downton Abbey
Breaking Bad
SpongeBob SquarePants
The Walking Dead
The Big Bang Theory
Top Searched Movies:
Pitch Perfect
Despicable Me
Despicable Me 2
Silver Linings Playbook
Star Trek Into Darkness
Top Searched People:
John Wayne
Clint Eastwood
Sandra Bullock
Jason Statham
Tom Selleck
*Roku Search for the Roku mobile app on Android and iOS devices is available on the Roku Streaming Stick (HDMI version). Roku 3 players will automatically receive the software update which is expected to be completed by April 22.