New to Roku or looking for new channels to explore? Get tips and tricks straight from our channel partners in our new Channel Highlight series. Leave your questions or comments below for Plex!
Everybody loves how simple it is to combine all their favorite media streams through their Roku player, and Plex, enhances that functionality by turning your Roku player into a window for all your personal media. With Plex on Roku, you have the ability to better organize your videos, photos, music and movies and stream them to your big screen.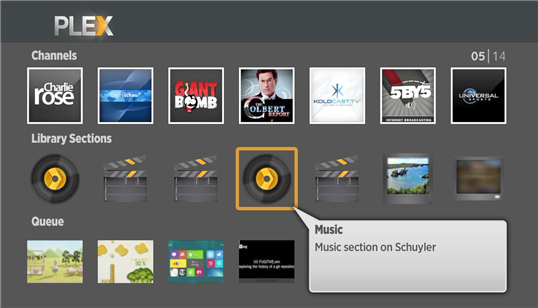 For Roku owners who've used the Plex app, you already know about the way Plex makes your personal media look beautiful by automatically pulling in metadata like cover art, descriptions, ratings and more.  If you're unfamiliar with Plex, here are some tips to turn your Roku Player into the perfect center for your personal media.
Share your media with friends and family – Plex allows friends and family to stream your media directly to their Plex-enabled mobile, desktop or set-top devices.
Queue videos from different websites, like YouTube, Vimeo, Ted Talks and more, to watch later on your Roku. The Plex app allows you to prepare a streaming video list for later viewing, saving you time.
Give the bookmarklet a whirl. Easily bookmark videos from your favorite sites with one-click and watch later on Plex.
For Plex Pass subscribers, now you can easily stream your most up to date photos from your smartphone or tablet to your big screen using the new Camera Upload feature.
With these tips & tricks, you'll see why Plex is one of the top-10 channels on the Roku player.
In a nutshell, Plex organizes all of your personal media, no matter where it's stored, so you can access and enjoy it on any of your devices. All Roku users in the U.S., Canada and UK can add the Plex channel for $4.99 after a free 30 day trial.