In January, back at CES, we announced that we are working with TV manufacturers to build Roku TV models – a new, simplified Smart TV based on the Roku platform. Today I'm delighted to celebrate with Hisense and TCL on the launch of their Roku TV models!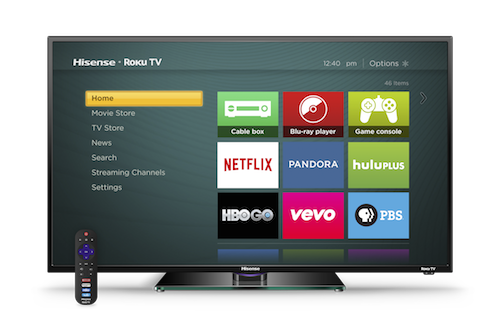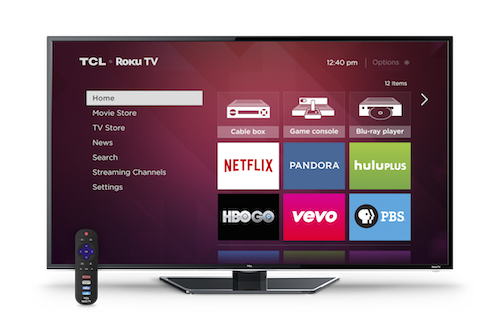 Just like our Roku players, Roku TV offers an exceptional streaming experience filled with endless entertainment choices. But we didn't just stick a Roku player inside the TV. We enhanced the Roku operating system to power the entire TV experience. That means we've applied our philosophy of simple and powerful across the entire TV – from the home screen to the remote control to picture settings. Combining the Roku OS with our partners expertise in TV hardware design, manufacturing and scale, we're thrilled to deliver  the best Smart TV in the market.
Consumers will love the personalized home screen which places their favorite entertainment options like the cable TV box, game console and streaming channels front and center. There's no more flipping through inputs or wading through complicated menus to select entertainment.
Content providers benefit from developing their streaming channel once for the Roku platform and having it instantly available across all Roku devices – so that's Roku players, The Roku Streaming Stick and Roku TV models.
We believe a simple, content-rich experience should be in all Smart TVs. Different from the complex, yet content limited Smart TVs that have been on the market so far, Roku TVs give consumers:
A personalized home screen with quick access to entertainment favorites
Simple remote control – we removed half the buttons of a traditional TV remote, including the input button
Endless entertainment with more than 1,700 streaming channels – that's 200,000 movies and TV episodes plus hundreds of choices for fitness, sports, news, kids, music and much more
Roku Search for finding more entertainment across the top 13 streaming channels
Integration with mobile devices through the free Roku mobile app for iOS, Android and Windows
Frequent software updates from Roku so the TV is always fresh with new streaming channels and features
An amazing overall value – starting as low as $229 for the 32 inch
TCL and Hisense continue to climb in popularity among consumers, as the world's third and fourth best selling TV brands, respectively. They are quickly establishing themselves as leaders in the U.S.
Hisense Roku TVs will be available in 40-inch, 48-inch, 50-inch and 55-inch models from major national retailers beginning in late September.
TCL Roku TVs are available for pre-order now from Amazon.com in 40-inch, 48-inch and 55-inch models. TCL Roku TVs will be available through major national retailers in the coming weeks.
We can't wait to hear what you think about the new Roku TVs! This is just the beginning.
Happy Streaming,