At Roku, our goal is to provide an enjoyable streaming experience for our customers, including those with visual or hearing impairments. We recently added and improved some great features to offer these customers more seamless access to streaming entertainment on the Roku platform. Some of these features are helpful even if you aren't visually or hearing impaired – I personally love using voice search through the Roku mobile app!
Features that help with accessibility on the Roku platform include:
AUDIO GUIDE
Audio Guide is a text-to-speech screen reader that assists customers with navigation of the Roku user interface and onscreen menus. When activated, Audio Guide will read out text, menus and other onscreen items.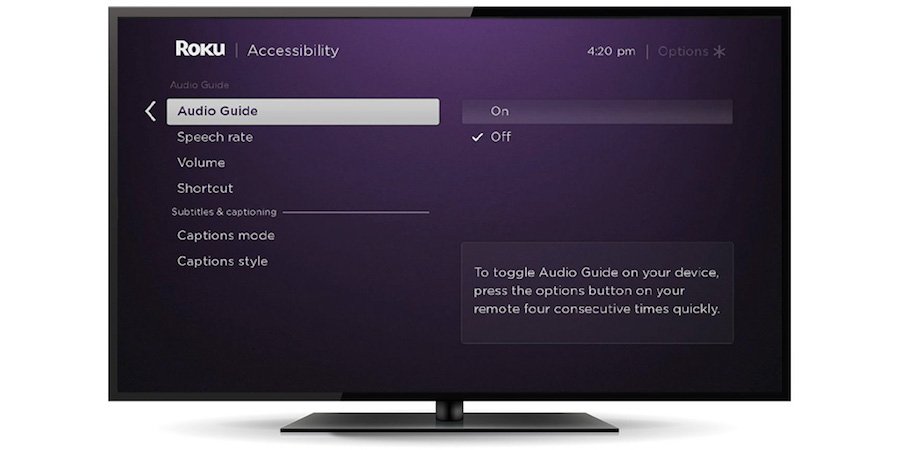 To turn audio guide on or off, press the Options (*) button, located just below the directional pad and at the right hand side on the Roku remote, or go to the Accessibility category of the Settings menu. Within Settings you can also adjust the speech rate, text-to-speech volume, or disable the Audio Guide remote shortcut.
Roku streaming devices that support Audio Guide include: Roku Ultra (4640X), Roku Premiere+ (4630X), Roku Premiere (4620X), Roku Express+ (3710X), Roku Express (3700X), Roku® Streaming Stick® (3600X) and all Roku TV™ models in the US.
CLOSED CAPTIONING
Closed captioning displays dialogue, background noises and sound effects of a movie or TV show as text on your TV screen. In addition to aiding our hearing impaired customers, closed captions can be useful for anyone when dialogue is difficult to understand or when the volume cannot be turned up too loud.
You'll find that many popular streaming channels' (e.g., Netflix or Hulu) support closed captioning. However, it may not be available on all channels so we recommend you contact the service provider directly if you have questions regarding availability of closed captioning within specific channels.
Closed captions can be turned on or off within the Accessibility category of the Settings menu.
VOICE SEARCH
With the free Roku mobile app for iOS or Android, you can use your voice to search for entertainment by speaking the movie, TV show or actor/director you're looking for to receive comprehensive results across top channels.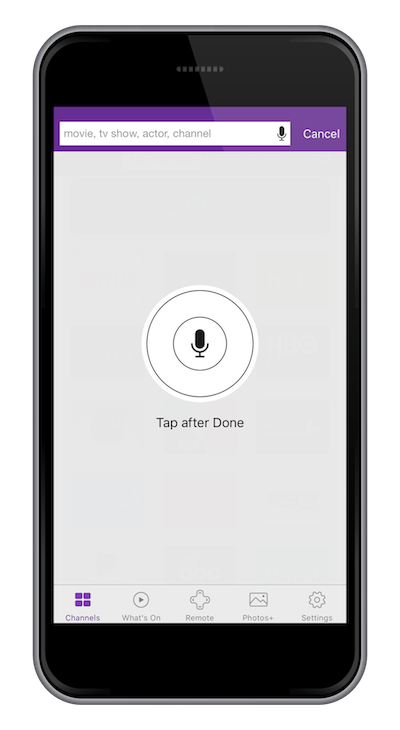 Voice search is also available on select Roku player remote controls including Roku Ultra (4640x), Roku 4 (4400x) and Roku 3 (4230x).
Give these features a try and let us know what you think in the comments below.
Stream on!