I will never be able to properly express through words my excitement when I found out ALL seven seasons of The Golden Girls were going to be streaming on Hulu February 13 just in time for Valentine's Day. People around the office know that I have always wondered why The Golden Girls wasn't available on any of the streaming platforms. I discovered this show when I was procrastinating from writing a paper in college, Lifetime was having one of their marathons that they used to do randomly all the time. Ever since then watching The Golden Girls is like comfort food to me, it goes well with rainy days, sick days, slow days, stressed out days, any kind of day really.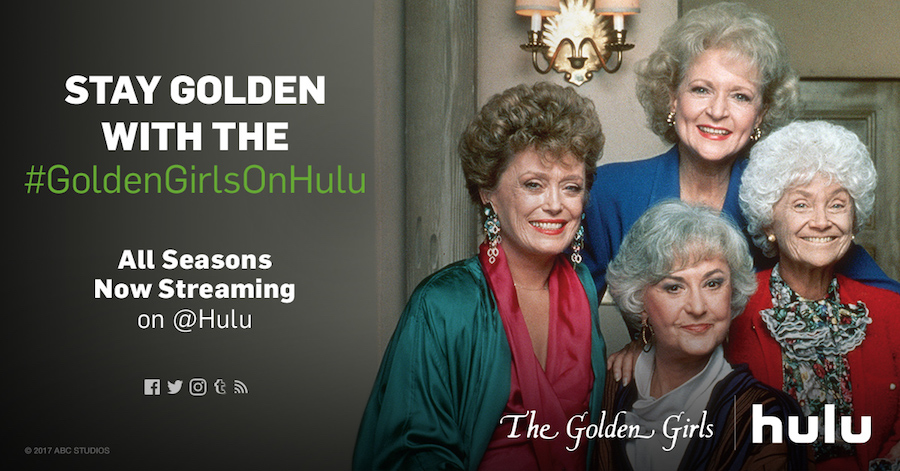 Here are some of my favorite episodes:
A Midwinter Night's Dream (S7E19)
The double entendres on this show are some of the most creative out there. As I'm watching the episodes nowadays, I frequently wonder how they got half of the jokes past their censors. This episode has my favorite one where Dorothy uses a baking metaphor to ask Rose how she would feel if Rose found out her boyfriend was cheating on her. I love quoting these lines with my sister, who's also a Golden Girls fan:
"No offense Dorothy, but your cupcakes are dry and tasteless. Nobody ever likes your cupcakes."
"My cupcakes are moist and delicious. Men love my cupcakes."
"Get a clue, Dorothy. Men would rather pay for cupcakes."
I'm laughing as I'm typing this out right now.
Journey to the Center of Attention (S7E18)
Blanche singing (and slipping) on a piano in the Rusty Anchor, some of the best physical comedy out there.
Old Friends (S3E1)
I have always felt that TV is at its best when it's relatable, so this is probably my favorite The Golden Girls episode. Sophia's helpless feeling then resolve to deal with the discovery that her new friend has Alzheimer's is something that brings me back to when I found out my grandfather had it. And this episode is a prime example of how the show could balance between finding the humor in situations but also honestly portraying the emotions that these character lived with. I think that's why there's a wide range of people who will always have a fondness for this show.
Happy Streaming!