The Roku team's been quite busy lately, and we can now proudly say that there are over 5,000 (!) streaming channels in the Roku Channel Store! Below we've highlighted some recently added channels you may have missed.
Simply click the links below and add the channels to your Roku player or Roku TV.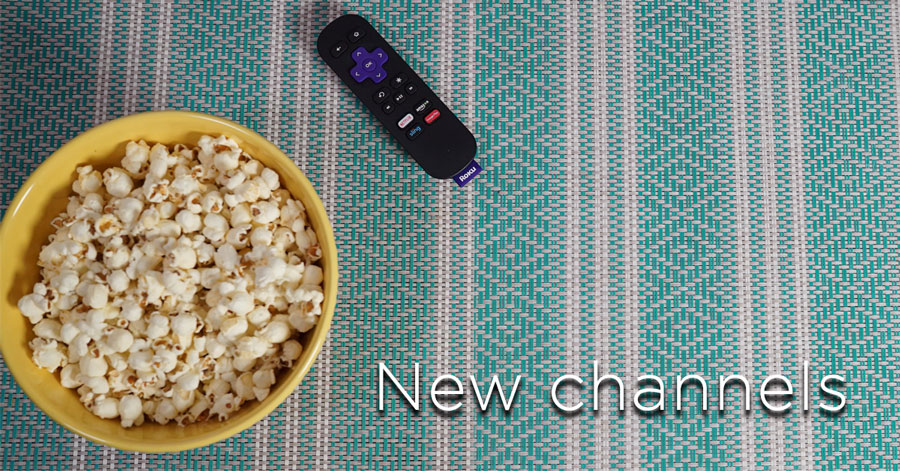 FREE
Twitter – Stream live sports (a free MLB game every week), entertainment, news and more!
Comet TV – Space out on some sci-fi entertainment and cult classics like Poltergeist and Stargate SG-1 on this live feed style free channel.
Esquire – A modern American culture channel with videos on men's style, eats and drinks. Learn how make the perfect White Russian, a guide on how and when to wear your favorite hats, and how to wear the perfect collared shirt.
Cosmopolitan – The famous women's magazine has a new free channel that brings you beauty tutorials, workouts, viral food recipes, celeb news, relationship advice and more.
BA Recipes – Learn how to make new dishes like cheesy taco pasta, mashed potato pancakes, or sushiritos in these beautifully filmed cooking tutorials.
Elle – Calling all fashion lovers! Elle delivers a behind-the-scenes take on the fashion industry, for free!
Nosey – Stream free episodes of Maury Povich, Jerry Springer, American Gladiators, Blind Date, Cheaters, Match Game, Family Feud and more!
VRV – Includes anime, animation, gaming, comedy, sci-fi, fantasy, horror, and tech videos, as well as free content from Crunchyroll, Funimation, Cartoon Hangover, Nerdist, Seeso, Shudder and others!
Baby Genius – Your child will love singing, dancing, and learning with these free animated nursery rhymes.
Reel Country – For fans of old Westerns, Reel Country has a selection of classic films featuring John Wayne and Roy Rogers, and TV shows like Bonanza and The Beverly Hillbillies.
Secret Golf – Join professional golfer Steve Elkington as he journeys across the North American golf landscape and offers compelling stories and game-expanding instruction from a lifetime of playing the game.
Sweet Tweets – A delightful new series of animated nursery rhymes and original songs for children, featuring Momma Tweet, Poppa Sweet and their family full of Tweetle Bums.
Formula 1 Racing – Your destination for everything F1 – including race highlights, racetrack and driver features, and amazing stories about the sport.
Harper's Bazaar – Like the magazine, the Harper's Bazaar channel brings you the best in fashion, celebrity, and travel.
All Karaoke – Choose from hundreds of songs to sing along with your favorite artists, from Elvis to Adele to 50 Cent.
CineAmerica – CineAmerica offers an library of Kung Fu flicks, classic Laurel and Hardy films, and a number of documentaries.
SUBSCRIPTION (Requires a monthly/yearly payment)
Walter Presents ($6.99 per month) – From Nordic thrillers to South American chillers, film critic Walter Iuzzolino has done all the hard work uncovering award-winning, top rated, exclusive and original drama series from around the world and has gathered them in one place for US audiences to enjoy for the very first time.
BritBox ($6.99/month, 7 day free trial) – Gives subscribers access to thousands of hours of programming and the most comprehensive collection of British television… ever.
Digital Concert Hall (starts at $9.99/month, 30 day free trial) – With the Digital Concert Hall channel, you'll always have the best seat in the house to see the Berliner Philharmoniker – no flight required!
Total Access TNA Wrestling ($7/month) – Stream classic TNA Pay-Per-Views and episodes of TNA Epics featuring your favorite wrestlers like Sting, AJ Styles, Kurt Angle, and Jeff Jarrett.
Univision NOW ($5.99/month, 7 day free trial) – Offers a live stream of the Univision and UniMás networks, including live sporting events and specials, with streams from stations in select markets.
AUTHENTICATED (Cable or satellite subscription required)
Watch OWN – Stream episodes of the Oprah Winfrey Show, Dr. Phil, and OWN original series like For Peete's Sake or Greenleaf.
Watch TBS – Offers live streams and on demand content from your favorite TBS TV shows including Full Frontal with Samantha Bee and CONAN, plus hit movies!
Watch TNT – Stream the NBA on TNT, TNT shows such as Animal Kingdom and Good Behavior, movies and more.
Hallmark – Your destination for Hallmark original movies and TV shows, including C Christmas movies during everyone's favorite time of the year!
Happy streaming!
Facebook | Twitter | Instagram | YouTube | Subscribe to Roku blog