こんにちは (Hello) anime fans! With so much great anime coming from Japan, sometimes it's hard to decide what to watch. To help make this easier for you, we've put together 11 essential Roku anime channels where you can watch the classics and catch up on new releases.
What's your go-to anime channel? Let us know in the comments section below!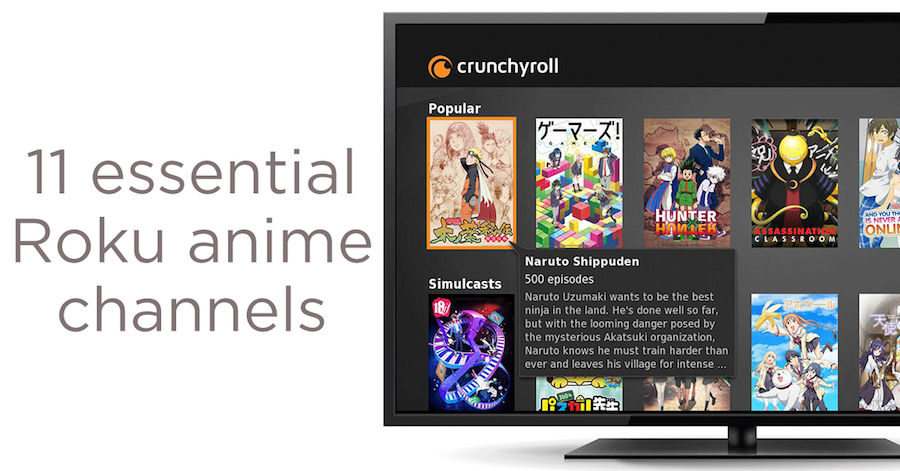 Crunchyroll (14-day free trial, $6.95/month) – Crunchyroll is the official destination for the largest lineup of current and classic anime. Watch hit shows like Naruto Shippuden and Sailor Moon on all your Roku devices. Watch for free or become a premium member to watch ad-free with exclusive access to simulcasts—with shows available immediately after broadcast in Japan.
Anime Network (2-week free trial, $6.99/month) – Enjoy thousands of episodes available in English dubbed and subtitled formats. Watch popular shows like Akame ga Kill!, Log Horizon, and No Game No Life along with staples such as Appleseed, Ninja Scroll and Gatchaman. Non-subscribers can explore for free and watch the first subtitled episode of any series as well as clips and trailers.
FunimationNow (14-day free trial, $5.99/month) – Access over 6,000 anime videos featuring iconic classics and the hottest new shows of the season available in English. Watch hits Attack on Titan, Dragon Ball Z, One Piece and Fairy Tail and more.
Hulu (30-day free trial, starts at $7.99/month) – Hulu gives you unlimited instant access to current episodes and full seasons of hit anime shows. Watch fan favorites like Death Note and Bleach or rewatch classics such as InuYasha and Fruits Basket.
Netflix (30 day free trial, $7.99/month) – Watch both anime series and movies, including Netflix original series available in both English and Japanese. Check out new exclusives like Castlevania and Knights of Sidonia or big movie releases like Gantz:0 and Little Witch Academia: The Enchanted Parade.
Crackle (free) – Crackle features some great free anime entertainment. Currently streaming heavy hitters such as Sword Art Online, Fate/Zero, Rurouni Kenshin and Yu-Gi-Oh are completely free – no authentication or cable subscription is needed.
Pluto TV (free) – Pluto TV's Anime All Day channel has an eclectic mix of some your favorite reruns and entirely new series. A rotating lineup makes this a great option for those who like channel surfing.
Pokémon TV (free) – For the legions of Pokémon fans out there, this one is for you. Watch the animated adventures starring Ash, Pikachu, and all their friends, both old and new.
VRV (free with ads, go premium for ad-free) – VRV is your anime Swiss army knife. Watch over 20,000 episodes with ads, or go premium to access exclusive series an ad-free experience on channels like Crunchyroll and Funimation.
Viewster (free) – Viewster has a nice mix of both new and old anime series to discover for free. Some highlights include: Kill La Kill, HAIKYU!!, Gunslinger girl and Fushigi Yuugi.
Tubi TV (free) – TubiTV has a large collection of anime classics like .hack, Ouran High School Host Club, Hunter x Hunter, Revolutionary Girl Utena, and many more.
Happy streaming!
Facebook | Twitter | Instagram | YouTube | Subscribe to Roku blog