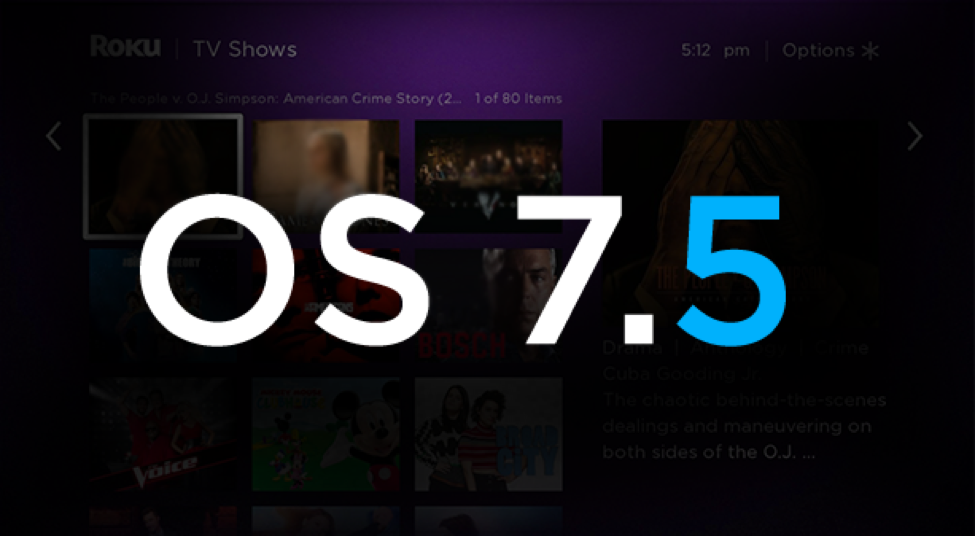 Roku OS 7.5 focuses primarily on making SceneGraph development more intuitive, as well as supporting text-to-speech functionality for CVAA compliance. The OS will be sent to all Roku devices in phases throughout the coming months.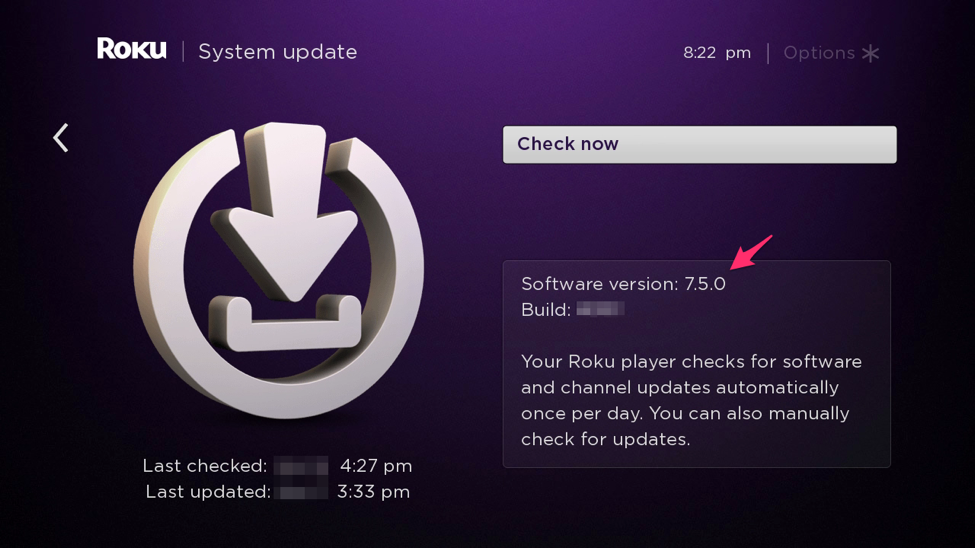 Below is a high-level overview of developer updates in OS 7.5. For our full developer documentation, visit our SDK docs and developer GitHub page.
To read release notes for Roku customers, visit the Roku blog.

Major changes
Observer callbacks are now handled immediately and get the field value at the time the corresponding setField() occurs. In the past, callbacks were deferred and queued until the first one completed (Handling Application Events, Recursive Callback Model)
Developers can now set the version of SceneGraph their channel uses by declaring it in the manifest ("rsg_version=1.0"). This is meant to be a short-term fix for existing channels that were built around the old approach to handling observer callbacks. If no RSG version is declared, the channel will default to the most current version of the framework (Queued Callback Model)
SceneGraph channels can now download and use unsigned component libraries, allowing for the implementation of custom libraries across channels (ComponentLibrary)
Telnet ports 8089-8093 have been closed. A multi-thread aware debugger has been introduced at port 8085 (8087 for screensaver) (Testing and Debugging Roku Channels)
Functional fields have been added as a mechanism for SceneGraph channels to create procedural functions that can be called on components directly (Handling Application Events, Functional Fields)
The BrightScript roAudioGuide component has been introduced to ease integration of text to speech functionality for channels that must be CVAA compliant (roAudioGuide, ifAudioGuide)
Roku now supports live DASH streams
ECP Search enables an external client to drive the Roku Search UI on the box. It supports finding content and optionally launching an available provider (ECP Search examples)
The new built-in SceneGraph TargetGroup node class allows developers to add non-linear layouts and focus effects to their channel UI (TargetGroup)
Video Player changes
New 'AdaptiveMinStartBitrate' and 'AdaptiveMaxStartBitrate' metadata values allow for pre-setting the startup bitrate (Playback Configuration Attributes)
Introduced a new content meta-data attribute 'ignoreStreamErrors' to skip to the next item in a content list when an item fails due to a streaming related error (Playback Configuration Attributes)
The 'PlayStart' and 'BookmarkPosition' content meta-data attributes have been modified: BookmarkPosition can be overridden by a seek operation, whereas PlayStart can not. Channels can use PlayStart and PlayDuration to split one content piece into multiple clips and insert these clips with other content (typically advertisements) into one content list (Playback Configuration Attributes)
The description returned by GetMessage on isStreamSegmentInfo now reads "Stream segment info" as opposed to the old "HLS segment info" to reflect the added support for DASH and Smooth streams
'ClipIdx' and 'Ignored' attributes added in the GetInfo object of isRequestFailed (roVideoPlayerEvent)
'ClipIdx' and 'ClipPos' attributes added in the GetInfo object of isPlaybackPosition (roVideoPlayerEvent)
'roVideoPlayer::Play' starts playback at the seek position if seek was called prior to play. If seek was not called, the player advances its current position to the next item in the content list and starts playing that item
'roVideoPlayer::Stop' stops playback and resets the seek position, keeping the player's current position unchanged
'roVideoPlayer::SetContentList' sets the content to be played by the roVideoPlayer and resets the current player position. roVideoPlayer also prefetches the next item in the content list while the current item is playing with no buffer time, depending on network throughput
The URL failover attribute inside Stream/Streams content meta data has been deprecated since adaptive streaming protocols provide their own failover scheme (Playback Configuration Attributes)
OS improvements
The Roku MediaPlayer now automatically detects and plays a video even if the file type is not specified. All major file types — HLS, DASH, Smooth and MP4 — are detected
Video player automatically scales when changing to a different stream with different ratios
SceneGraph improvements
ChannelStore node commands have been serialized to ensure that one command finishes before the next begins
'roArray' type interface field added to RSG (<interface>)
A soundEffects node has been added to allow for custom sound effects or to turn off built-in SG sound effects
Poster bitmapWidth and bitmapHeight have been exposed through boundingRect()
The thread rendezvous now waits indefinitely so that the task threads wait until the scene returns (SceneGraph Threads)
BrightScript improvements
Fast Video Start can now prebuffer from non-zero positions, allowing for prebuffering of content in "Continue Watching" lists (Fast Video Start)
findNode() arguments and nodeType fields are now case insensitive
Items() accessor added to roAssociativeArray that returns an array of associative arrays with the keys and values and can be iterated over (ifAssociativeArray)
GetRemoteID() method added to roUniversalControlEvent to distinguish between multiple remote and ECP events (roUniversalControlEvent)