Now that summer's officially here, I've made my summer activity to-do list. It's simple: barbecues, baseball and binge-watching. What's on your summer list? Whether you're sticking around or hitting the road, Roku's here to complement your long summer days.
ENJOY A STAYCATION
Sometimes a good ol' staycation is the best way to recharge. Sleep in, rock out to your favorite music, cook at your leisure and catch up on your streaming queue. With your Roku player or Roku TV there are thousands of streaming channels to explore, covering music and food to movies & TV to fitness. Also, don't miss the hundreds of free channels available in the Roku Channel Store.
Channel suggestions* | iFood.TV, Tastemade (both stream 4K content!), Pandora, Pluto TV, SHOWTIME, HBO NOW
Roku feature | The Roku Mobile App for iOS and Android offers a companion experience and can act as a remote control, enable voice search or provide an on-screen keyboard. Use the Play On Roku feature within the app to stream your personal videos, music and photos to the TV.
ENTERTAIN AND EDUCATE THE KIDDOS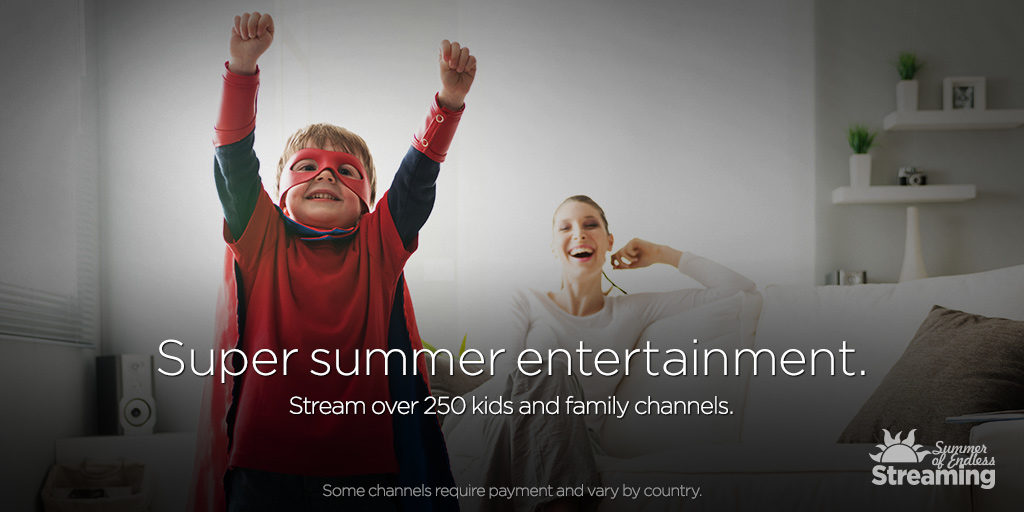 All that fun in the sun is sure to tire the kids out! For that much needed downtime this summer, there are hundreds of kids & family channels to entertain and educate.
Channel suggestions | PBS Kids, HappyKids, Phonics for Kids, Disney Channel, Disney Junior
Roku feature | The tale of the missing Roku remote ends with the Roku 4's handy Remote Finder feature. Simply press the button on top of your Roku 4 and your remote will tell you where it is.
ON THE ROAD OR ON VACATION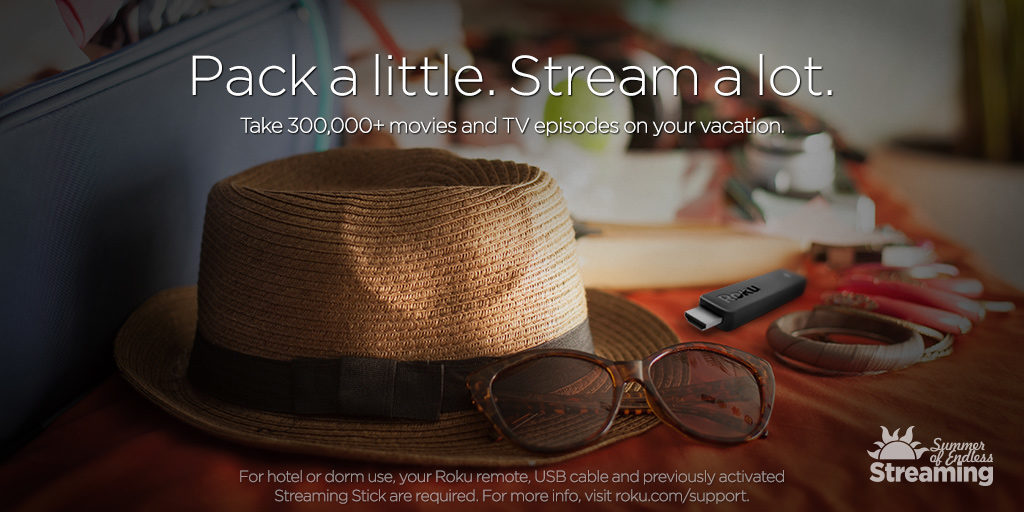 Planning a getaway? Don't forget your most entertaining travel buddy. Skip the socks, pack your Roku streaming player and remote, and stream all your favorite movies and TV shows.
Roku feature | Hotel and Dorm Connect allows you to easily connect Roku players** and Roku Streaming Stick to wireless networks while you're on the go – e.g. hotel rooms, college dorms or other public locations that require sign-in through a Web browser. Set up is quick and easy – simply connect your Roku device to the password-protected network, sign-in with your login credentials using the browser on your mobile phone, tablet or laptop, and you're ready to start streaming.