Are you dealing with spotty Wi-Fi and frustrating connectivity issues? We're here to help your Roku player stream smoothly.
Below are troubleshooting tips for some of the most common issues. The latter tips are a bit more advanced, so please reach out to our support team (click here for CA or UK support) if you have any questions along the way.
1. Location of router
Sometimes just the slightest adjustment to the placement of a router in your home can make a big difference in performance. It's best to place the router as close to the middle of your home as possible, which allows equally distributed access to the Wi-Fi signal (see image below).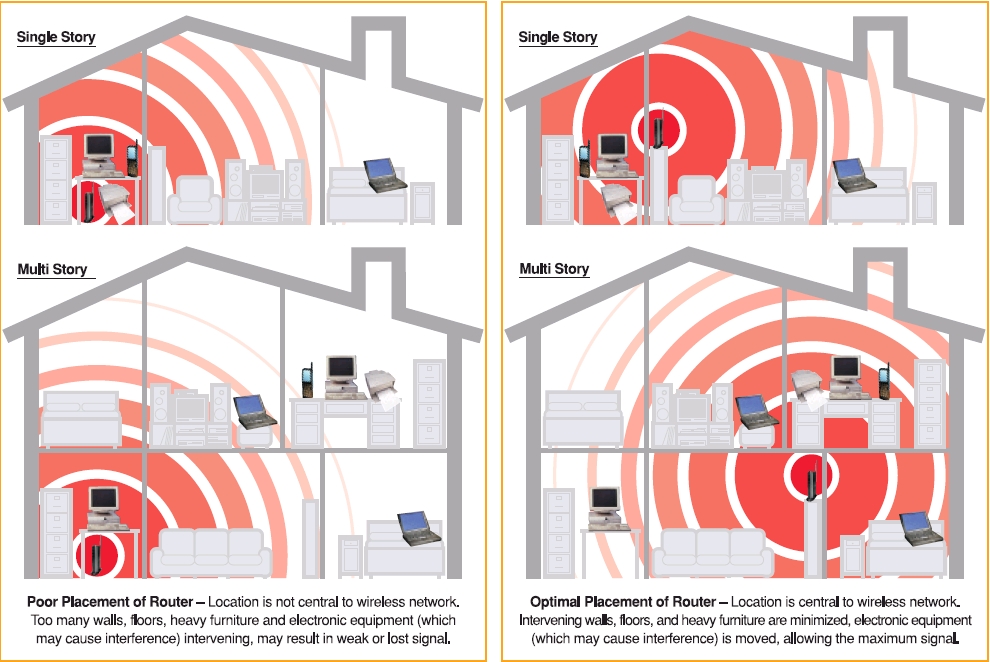 Image: via Verizon Fios Internet Support
Avoid placing the router in a basement or near a window or other electronics. Household devices such as cordless phones and microwaves may emit interference and reduce the wireless signal. These are 10 router locations that might be killing your Wi-Fi signal.
Does your router have an antenna? If so, adjust it. Sometimes a slight angle tweak can help.
2. Placement of your Roku player
Similar to tip #1, the placement of your Roku player is important as well. You can change the direction it faces – even a few inches one way or the other may improve the reception.
If you have a Roku 3 player, we recommend connecting it directly to your router via Ethernet cable. See set up instructions here.
3. Update your router firmware
The router's firmware and driver need to stay up-to-date to provide optimal streaming performance. Check the device manufacturer's website regularly for updates to keep your router in optimal condition.
Also, it can't hurt to make sure your router is optimized for the latest streaming technology. The current routers feature 802.11n technology and are ideal for video streaming, while older routers (802.11g/b) tend to have restrictions. It may be time to get a new router. A newer router model that runs on the 5.0Ghz frequency is a great option because it will have less congestion, as 5.0Ghz is a less used band. Note: 5.0Ghz frequency is only supported on Roku players that support dual band wireless including the Roku Streaming Stick (HDMI Version), Roku 2 and Roku 3.