Hulu is a great source for enjoying the latest TV shows from networks such as FOX, NBC, ABC and more. If that isn't awesome enough, the reason why I'm featuring them this week is because they are the only streaming channel providing literally all 180 episodes from "the show about nothing" aka, Seinfeld.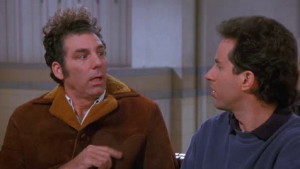 Finally, the greatest show of all time is available in its entirety and you can easily enjoy it however you want by either starting from episode 1 or checking out its most classic episodes. If moments like The Soup Nazi, yada yada or the Chinese restaurant don't ring any bells I truly feel sorry for you. In which case, go to Hulu immediately and learn exactly what I am talking about! You won't regret it, pinky promise.
Now thanks to Hulu, no longer will you be out of the loop. Binge watch this series and you'll quickly understand why it was not just a part of pop-culture, but shaped it for decades to come.