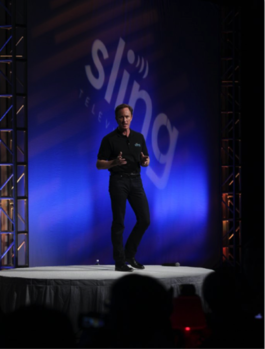 Hello, Roku streamers! I've seen a lot of changes over my 20+ years in the digital media industry and as GM for content at Roku, and have been fortunate to have a front-row seat to watch the streaming revolution. In the midst of it all, I have to say that I believe the launch of Sling TV is one of the most important game-changers yet.
The ability to stream live TV from a number of top channels for just $20 a month has resonated with consumers. As a partner and distribution platform for Sling TV, I am excited to see consumers have the ability to take back TV and get the entertainment they want when they want it. I recently asked Roger Lynch, CEO of Sling TV, to chat with me about the service, the entertainment industry as we know it today and what the future holds.
SS: For those who may be new to Sling TV, tell us a little bit about what the service offers to consumers?

RL: The first thing to know is that Sling TV is available on Roku! It's an award-winning, over-the-top television service that delivers live sports, lifestyle, family, and news channels. On top of that, Sling TV offers Video-On-Demand, like new and classic movies. We're proud to make Sling TV available for just $20 a month. Unlike other services, there's no long-term commitment, no annual contract, no credit check, and no annoying appointment with the cable guy.

SS: How did you pull this off? Why do you think companies such as Disney want to be part of Sling TV?

RL: We know there's an entire generation of people who love TV, but absolutely hate the traditional pay-TV model. First and foremost, Sling TV is designed for this younger audience that's not participating in the current pay-TV model. It's also great for programmers because Sling TV offers them the opportunity to engage more millennials than they typically reach. Beyond that, Sling TV brings new advertising possibilities that focus on the consumer experience.

SS: What was the biggest challenge you faced in making Sling TV a reality for consumers?

RL: The Sling TV journey has been a few years in the making, starting when we launched DishWorld, our International TV service. Our team has worked tirelessly to perfect the service through the tens of millions of hours we streamed each month with DishWorld, and now we're listening to our Sling TV customers to get them the content and features they want most. We're not perfect (yet!), but it's already been an honor to learn so much from the launch of Sling TV.