New tool allows publishers to buy ads on the Roku platform

Overview
2016 marked the first year that digital ad spending has caught up with traditional TV, reflecting the growing trend of cord-cutters switching to streaming services. With millions of active users and billions of hours streamed, the Roku platform offers an effective way for publishers to reach a large, engaged, and targeted audience.
To help publishers and channel owners promote their channels, we've introduced the Roku Self-Serve Promotions tool. This tool allows anyone to buy targeted display ads on the Roku home screen.
Sections:
Display ads on Roku
All promotions purchased on Roku will appear on the home screen to the right of the My Channels section. Roku ads are meant to boost a channel's visibility on our platform, and should link directly to a specific piece of in-app content when possible.
There will only ever be one ad shown at a time, so you'll never be competing with other brands for the viewer's attention.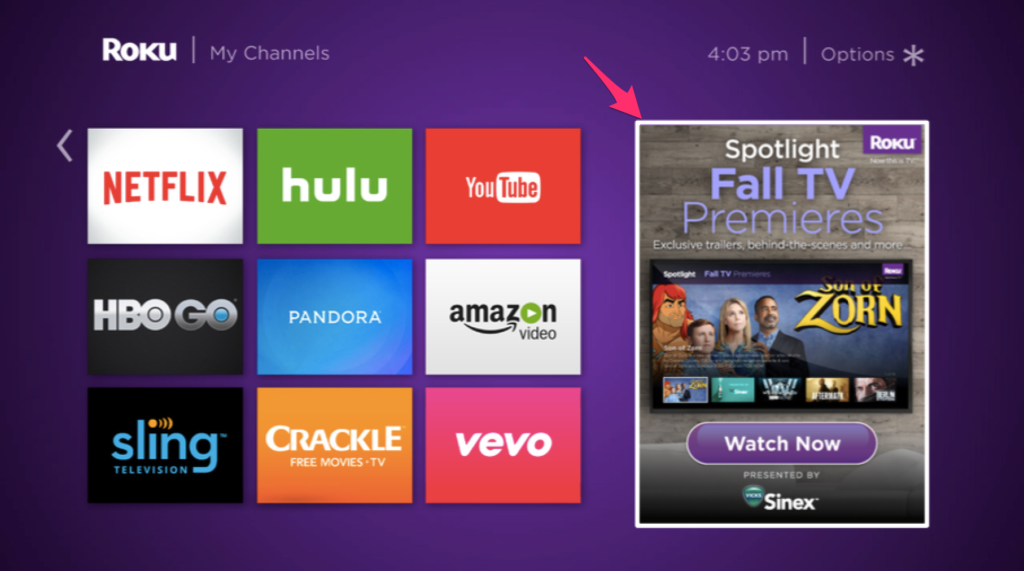 When purchasing a campaign, you'll need to submit ad creatives in three sizes to account for the differing resolutions of 4K, HD, and SD televisions:
4K — 525 x 735
HD — 350 x 490
SD — 200 x 280
Once your campaign goes live, you can upload additional creatives to run. We encourage advertisers to submit 2-4 creatives per campaign to avoid user fatigue. The ad server will auto-optimize the creative, serving the banner with the highest click-thru-rate (CTR) at a greater frequency than banners with lower CTRs.
Benefits
Display ads on the Roku home screen have many known benefits for publishers:
Average display click-through rates are .7%
Channel promotion on Roku can increase the likelihood of user engagement by more than 100%
Channel promotion on Roku can increase the likelihood of user sign up by 2x
Of course, lengthy campaigns with well-targeted criteria are known to be more effective.
How to buy promotions on Roku
Defining your campaign
To use the Self-Serve Promotions tool, start by navigating to selfserve.roku.com.

Once there, you'll be able to drill down on a specific target group of Roku users, based on audience type and location. As you select criteria, they'll be added to the list on the righthand side. Note that ads will be served to someone in any of your geo-targeted regions, whereas a user will have to match all of your audience target criteria to see your ad.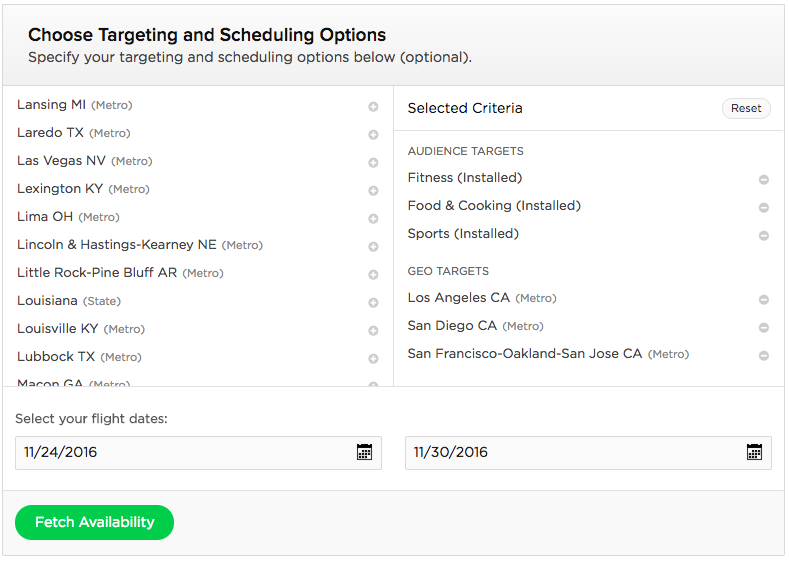 You can also choose your "flight dates," or set a time window for when all your ads will be served. You'll need to check the availability before making the purchase to make sure Roku has the ad inventory to meet your demand.

Finally, select the number of impressions you would like to run. Currently, campaigns can only be purchased for the US Channel Store.
You'll be given a cost-per-thousand price (CPM) for your specific campaign and can buy anywhere from 10,000 to 732,000 impressions. For ad buys greater than 732,000 impressions, contact advertising@roku.com.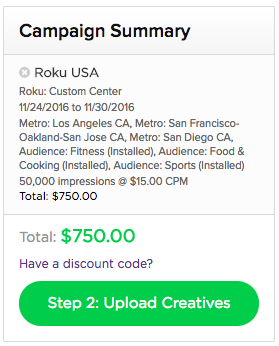 You can purchase more than one campaign at once, with different target audiences, flight dates, and impressions. Your running total will be reflected in the Campaign Summary as you add campaigns to your cart.
Upload Creatives
Once you've set the criteria for your ad campaign, it's time to upload the actual creative assets that will display on screen. Click the "View Creative Specs" link at the top of the page for an overview of requirements for your banner.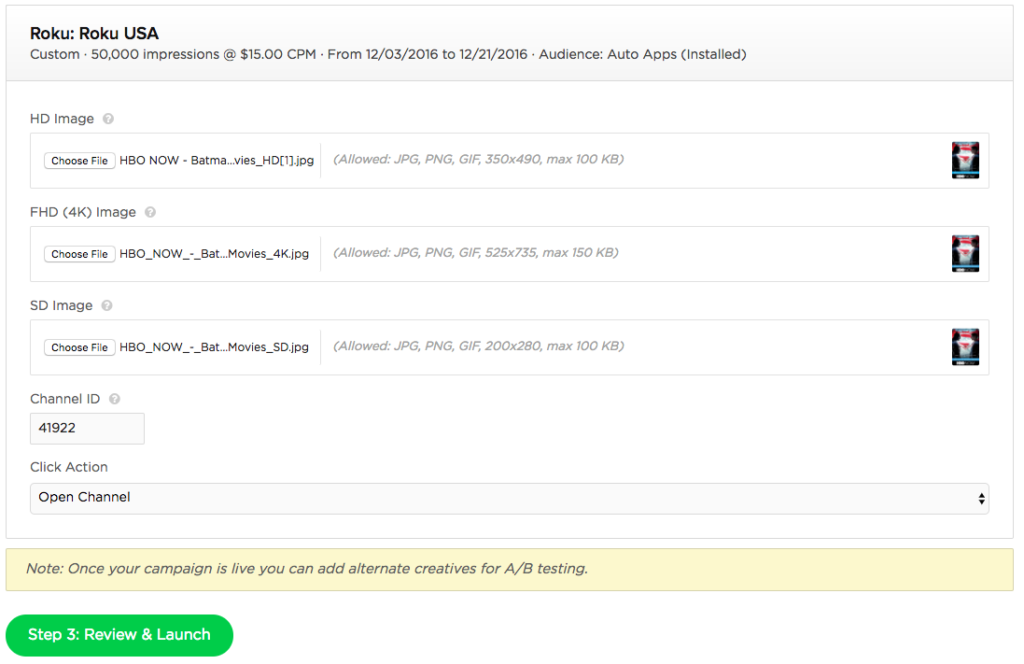 Start by uploading assets for the various channel resolutions and providing the Channel ID for the channel you're promoting.
When a user clicks on your ad, they can either be brought to your channel's home page or launch directly into a piece of content, as determined by the Click Action. When deep linking into content (the preferred form of promotion on the Roku platform), you'll need to provide the Content ID for the target content. If a user hasn't already installed your channel, they'll be prompted to do so before launching the content.
Review & Launch
Lastly, create an account through our payment portal (supported by BuySellAds) and review the criteria of your campaign.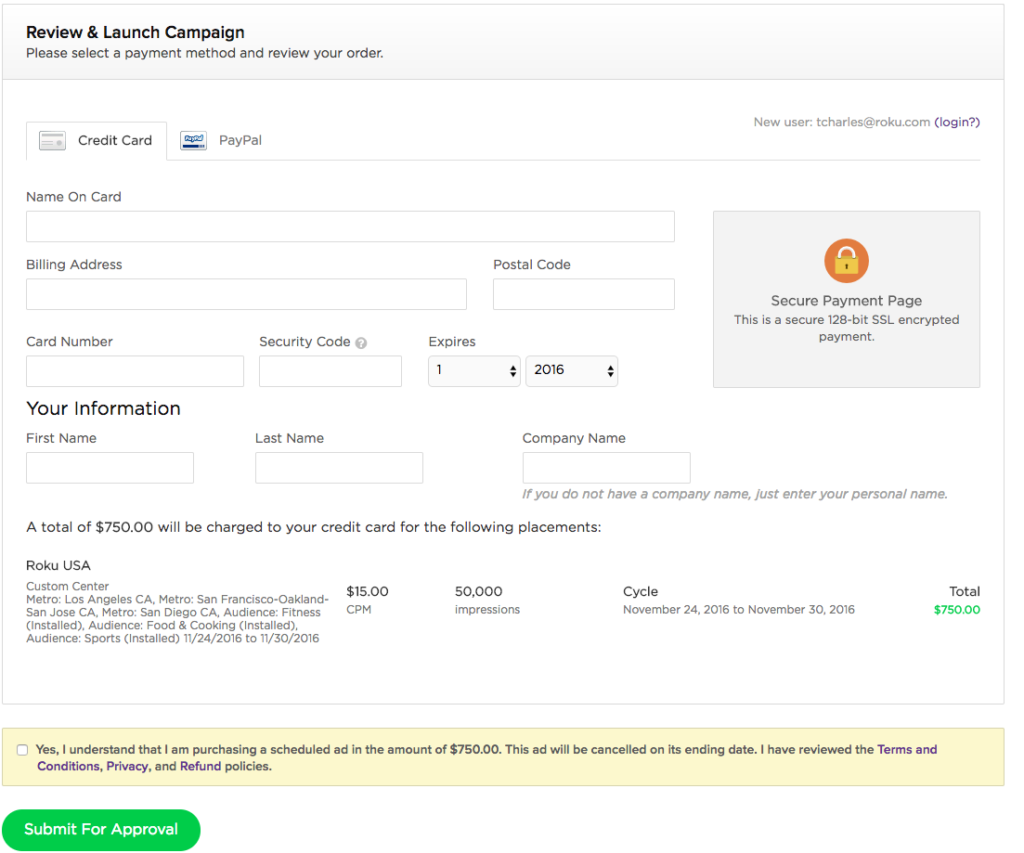 Note that the creative assets for every campaign will be reviewed for adherence to our Ad Guidelines before going live. Reviews are generally completed within one business day of applying. Please factor this into your timeline when buying a campaign that you'd like to begin immediately.
Tracking your campaign
After your campaign goes live, you can monitor its performance via the analytics dashboard provided by BuySellAds (BSA). You'll want to login using the same account you just created.

The dashboard provides an overview of each campaign, including their total impression count and click-through rate. You can view your campaigns as a whole, or drill down based on tags, status, or date.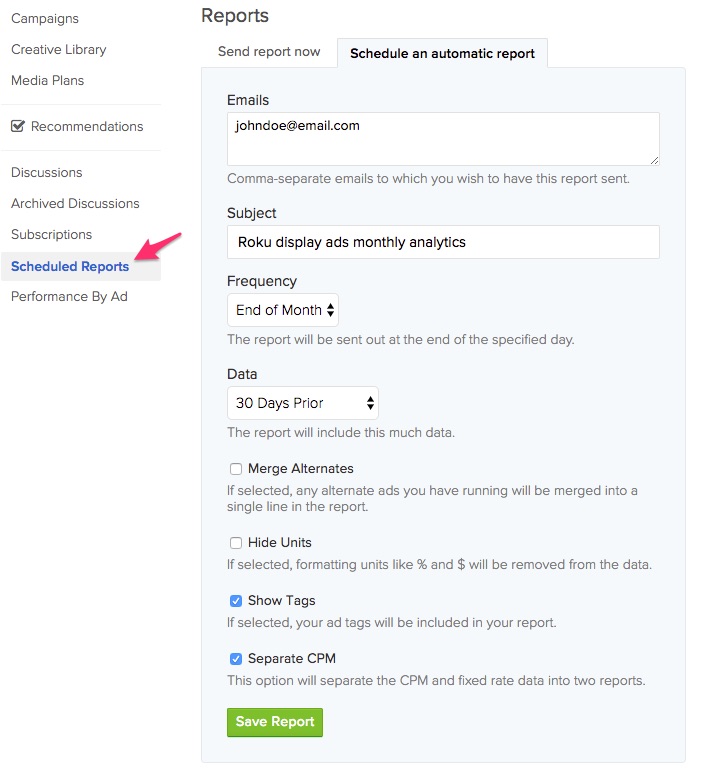 You can also arrange to have automated reports emailed to you on a regular cadence by using the Scheduled Reports feature. Provide the recipient emails, set the subject line, determine the frequency, and specify the time period you'd like included in your report, then click Save Report when you're finished.
---
Promoting your channel on the Roku home screen is one of the most effective ways to increase channel installations and viewing hours. Check out our Self-Serve Promotions tool to reach viewers before they decide what to watch.
Additional Resources: