If you're a fan of Roku and value your streaming time you'll be familiar with the welcoming sight of the purple home screen. You were already able to select a different background colour in the settings menu, but this week we are launching additional themes in the UK and Canada!
Roku users can choose from custom home screens thanks to the addition of the Themes category in the Roku Channel Store. Right now you can choose from ten home screen themes (and there's more coming!) that are inspired on your favourite TV shows and movies or hobbies.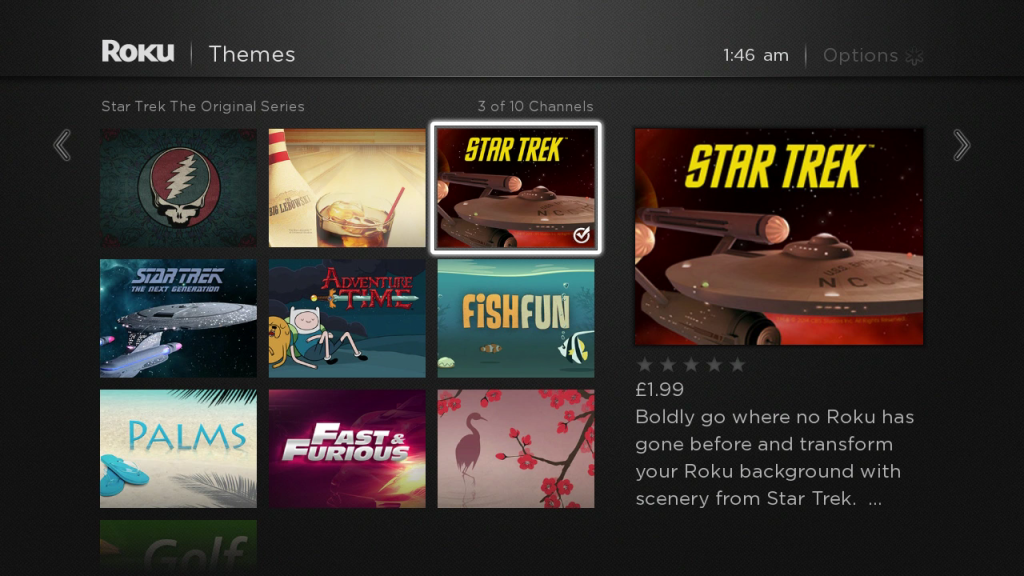 There's a number of fan favourite themes, including Star Trek and Star Trek: The Next Generation options, which allow the Enterprise voyage to continue while you're taking a streaming break! For petrol heads there is a Fast & Furious theme and there's also a Big Lebowski theme for those who like a chilled pace of life, like The Dude.
You can find the new themes in the "Themes" category in the UK and Canadian Roku Channel Stores on all Roku players, prices range from £0.69 to £1.99 and $0.99 to $1.99 in the UK and Canada, respectively. To manage your downloaded themes, go to Settings > Themes.
Happy theming streamers!